NEW YORK -- Packet Optical Transport Expo -- Despite astounding growth in the volume of optical traffic, spending on optical transport infrastructure isn't changing, and it isn't scheduled to pass spending on traditional Sonet/SDH transport gear until 2013, according to the latest Heavy Reading research, to be presented here today.

"People are always surprised at these growth forecasts for optical," admits Sterling Perrin, senior analyst with Heavy Reading . "Optical transport is not a growth market -- it's stable but it's not growing. And when you map that to what has happened on the traffic side, it is pretty amazing." Spending on optical transport actually peaked in 2000. Between 2000 and 2015, traffic volume will have gone up 88,000 times, Perrin says, "but the spend in optical transport is essentially half of what it was in 2000."

Being asked to do more with much less, the optical transport industry remains strongly focused on driving down cost per bit, and that focus is still there even as the industry manages the critical transition from the TDM-based optical realm to the packet realm, because the traffic growth is all packet.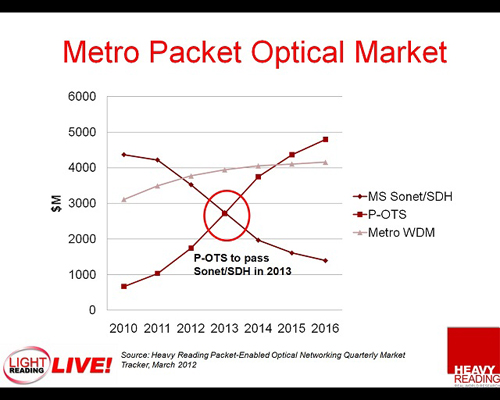 "Packet optical transport began as the bridge over the chasm from the old to the new," Perrin notes. "It is evolving, even if the change is a little bit subtle." Under that overarching trend, several others have emerged that will be the hot topics for today's discussion, many of which Perrin has summarized very nicely right here.

In addition, the impact of cloud computing on the packet optical network will be a significant focus, because, after all, we can't have a serious telecom event these days without discussing cloud services.

For even more about the speakers and topics at POTE Thursday, see Packet-Optical Moves Beyond 100G.

— Carol Wilson, Chief Editor, Events, Light Reading