Optical Expo 2006: Pics 'n' Quips
DALLAS --
Light Reading
's Optical Expo 2006 has rolled up and left town, but the inaugural show did leave behind its share of quality quotes and memorable photos.
So we thought we'd share 5 killer quotes and 10 snazzy snapshots from the conference that took place on Tuesday and Wednesday of this week.
Here are the quotes, previously unpublished and rescued from our notebooks:
5)
"I work for marketing now, so I can come up with a model that proves anything." —
Cisco Systems Inc.
(Nasdaq: CSCO)'s service provider marketing manager Gregory Smith when talking about the cost benefits of active Ethernet versus passive optical networks.
4)
"I think in the future people will get their home entertainment centers built by the companies they work for." —
DynamicCity Inc.
's CTO Jeff Fishburn, after pointing out that fiber-connected homes have unlimited potential for remote workers and decreasing business travel.
3)
"The first thing kids are going to do when they get an HD DVD for Christmas is they're going to pirate it. And that's going to hit your network like a ton of bricks." —
Optical Entertainment Network
founder Tom Wendt, after pointing out that the stream rate for a high-definition DVD is a whopping 36.5 Mbit/s.
2)
"Speaking as a long-haul provider, it would seem our business was not to make money, but we're over that now." —
Broadwing Corp.
(Nasdaq: BWNG) CTO Mike Jones, after a comment made by DynamicCity's CTO about how municipal networks aren't built to turn a profit.
1)
"Copper is everywhere and so are the customers. So, for a while, it's glass where you can and copper where you must." — Broadwing CTO Mike Jones, again, after fielding a question on Ethernet replacing DS1s and DS3s.
And, here are the photos: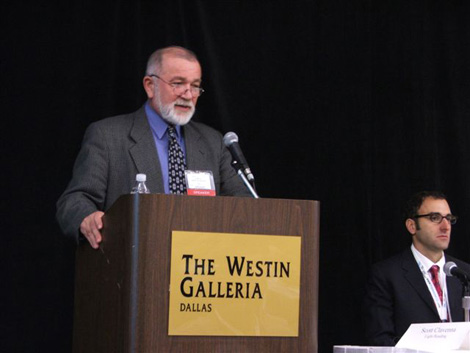 Finally, just to put a nice wrapper on our Optical Expo coverage, here are the stories and columns from the event:
— Phil Harvey, News Editor,
Light Reading
EDUCATIONAL RESOURCES


PARTNER PERSPECTIVES
- content from our sponsors