Optical Ethernet Rules
In the current market gloom, one sector has bucked the run of bad news to emerge as a beacon of excitement and optimisim: optical Ethernet.
According to the latest report from the
Optical Oracle
,
Light Reading
's subscription service, the penetration of optical Ethernet equipment and services is accelerating so quickly that sales will overtake those of Sonet equipment within five to ten years.
Over 60 percent of carriers already have gigabit Ethernet installed on their networks. Even more plan to do so within the next 24 months, according to the report: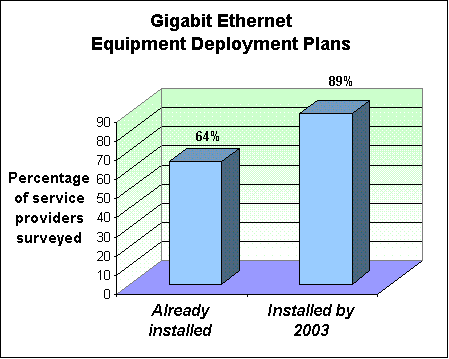 The report says the present optical Ethernet market is divided between two sets of vendors: those providing switches and edge routers with Ethernet interfaces, for use at the edges of a fiber metropolitan area network (MAN); and metro optical transport platforms with Ethernet interfaces that provide an infrastructure over which switches and edge routers can send Ethernet traffic.
The report ranks the top five public companies in both markets, and points out that although many companies sell both types of equipment, only one vendor wins a spot on both top five rankings:
Cisco Systems Inc.
(Nasdaq: CSCO).
However, Cisco is not the number one player in
either
market, the report states. Based on a valuation process that included in-depth industry interviews and analysis of products and financials, the report ranks
Riverstone Networks Inc.
(Nasdaq: RSTN) first in the switch/edge router category. ONI Systems ranks first in the transport category.
The other top five players in Ethernet switches and edge routers are (in alphabetical order):
Extreme Networks Inc.
(Nasdaq: EXTR),
Foundry Networks Inc.
(Nasdaq: FDRY), and
Juniper Networks Inc.
(Nasdaq: JNPR).
The other market leaders in metro transport are
Ciena Corp.
(Nasdaq: CIEN), Cisco,
Nortel Networks Corp.
(NYSE/Toronto: NT), and
Sycamore Networks Inc.
(Nasdaq: SCMR).
True to its title, "Optical Ethernet: The Shock of the New," the report indicates that not all vendors will be able to keep pace with Ethernet's growing dominance in MANs. Indeed, the research shows incumbent equipment vendors and service providers are at a distinct disadvantage to startups, which are not saddled with investments in legacy offerings.
In contrast, established equipment vendors such as Lucent and Nortel are moving too slowly to build a solid future position. The result, says the report, is that the optical Ethernet market presents an "unparalleled" opportunity for young companies to emerge as leaders.
— Mary Jander, Senior Editor,
Light Reading
http://www.lightreading.com
Editor's Note:
Light Reading is not affiliated with Oracle Corporation.
EDUCATIONAL RESOURCES



UPCOMING LIVE EVENTS
June 6-8, 2023, Digital Symposium
June 21, 2023, Digital Symposium
December 6-7, 2023, New York City
All Upcoming Live Events
PARTNER PERSPECTIVES
- content from our sponsors