Market research firm KMI Corp. says worldwide revenues from optical crossconnect systems will quadruple this year, reaching $6.3 billion by 2006
(see KMI Has Good News, Bad News).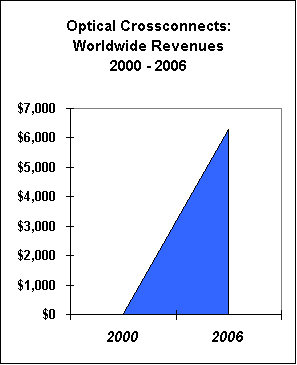 Over the next year alone, sales of optical crossconnects will increase more than 100 percent, KMI predicts.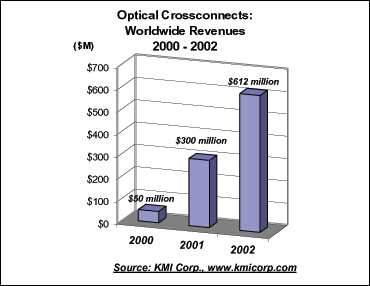 As sales increase, the per-port price of optical crossconnect equipment will fall nearly an order of magnitude, the firm says. By 2006, the average price per port will be $1,100, versus today's $10,000.


According to the report, demand for optical crossconnects is being spurred by the rise and complexity of data traffic, which carriers are finding expensive to handle in the same fashion as voice traffic.

With traditional Sonet gear, circuits are "nailed up" or permanently fixed to carry high volumes of traffic through carrier networks. This "one size fits all" arrangement is great for voice. But data is supported by gradations of bandwidth, designed for a range of applications and priced accordingly. With Sonet equipment, carriers must manually set up individual optical channels in order to accommodate these differences. The result is nothing short of a nightmare for many providers.

Enter the optical crossconnect, which KMI says is helping carriers save up to 70 percent on network costs, compared with traditional Sonet equipment. (For primers on optical switching and crossconnects, see Optical Switching and Optical Crossconnects.)

Today's optical crossconnects come from a range of vendors, including:

Products from these and other companies are based on a range of components and technologies, but most of them perform OEO (optical-electrical-optical) conversions inside the box. By 2006, KMI predicts, most crossconnects will be based on all-optical designs, allowing for greater speed and capacity per unit.

— Mary Jander, Senior Editor, Light Reading
http://www.lightreading.com