ONI Beats Estimates, Boosts Guidance

Comment (4)
ONI Systems Inc.
(Nasdaq: ONIS) handily beat analysts' estimates today as it reported net revenues of $30.2 million for its fourth fiscal quarter 2000, an 84 percent increase over its third quarter results. The firm hasn't yet broken even, as shown by its reported pro forma net loss of $11 million or (0.09) per share.
ONI bested Wall Street's expectation of a loss of 11 cents per share, and its revenues were well above the Street's expectation of $20.3 million.
More interesting, though, CEO Hugh Martin had some strongly worded predictions about the metro optical market, which ONI addresses with DWDM (dense wavelength-division multiplexing) products. Martin said the metro optical market will not be hurt by the carrier spending crunch that's pummeled the larger equipment companies: "There may be some slowing for the long-haul market, but we only see accelerating deployments for metro applications," Martin said during the conference call.
ONI added three new customers in the quarter for a total of 16. Martin reiterated that ONI should have between 24 and 26 customers by the end of the year.
Martin backed up his enthusiasm by boosting ONI's guidance for the coming quarter and the end of the year. Last quarter ONI said it would hit between $180 million and $190 million in revenues for 2001. Today it raised those expectations to the $210 million to $220 million range. ONI also raised its expectation for revenues for its first fiscal quarter of 2001 to the $35 million to $40 million range.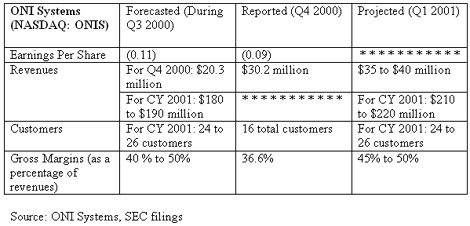 During the Q&A session, Martin took care to thump his big competitors,
Nortel Networks Corp.
(NYSE/Toronto: NT) and
Cisco Systems Inc.
(Nasdaq: CSCO). Regarding Nortel, Martin said that success in the long-haul space doesn't guarantee success in the metro market. "It may even be a hindrance," he said Martin said Cisco's ONS 15454 business is "flattening" and that there's a business shift from multiservice aggregation platforms to dynamic optical products. He also noted that ONI is favored by the "ever-shortening link" between enterprise networks and metropolitan networks.
Martin said he was watching what Cisco will do when it enters the market with the product line it obtained in the acquistion of Qeyton (see
Cisco To Buy Qeyton For $800 Million
), but he didn't see any startup as an immediate threat.
ONI's stock dropped 1.88 (3.5%) to 50.75 in regular trading Thursday. The stock had climbed back up to 51.99 on the Island ECN just after the earnings results were issued by the company.
-- Phil Harvey, senior editor,
Light Reading
http://www.lightreading.com
EDUCATIONAL RESOURCES

PARTNER PERSPECTIVES
- content from our sponsors
GUEST PERSPECTIVES
- curated contributions