Nortel Trumps Cisco?
12:30 PM -- Last week I had a meeting about meetings in
Nortel Networks Ltd.
's New York Office. We were discussing Nortel's telepresence service, which was announced back in May through a partnership with
Polycom Inc.
(Nasdaq: PLCM). While it was my first time in a telepresence room, and my experience in video conferences is close to zero, I came away very impressed with the service.
I met with Dean Fernandes, Nortel's VP and GM of Network Application Services, who was in Toronto for the meeting. It really felt as if Dean were right there in the room with us. There was only about a second of latency between the time I would speak and Fernandes would hear it on the other end in Toronto. The cameras were hidden behind the LCD screens so that parties on both ends of the conference made actual eye contact with each other during the meeting. Another feature that made Fernandes's presence seem real was audio that would literally travel across the room with him. So if he got up from his seat and walked to the other side of the room in Toronto, the sound of his voice would also move across the room in New York.
One of the other big names in telepresence is, of course,
Cisco Systems Inc.
(Nasdaq: CSCO), and Fernandes expressed strong confidence that Nortel's service was far surperior to Cisco's. "Cisco's telepresence is not nearly as immersive as ours is," he said. "They put a couple of plasma screens in front of you, but it's not the same immersive experience as this."
Fernandes even went as far to say that Cisco and the rest of the competition is 12 to 18 months away from even catching up to where Nortel currently is with telepresence. While I haven't experienced any of these competing services first hand, I can agree with Fernandes, that Nortel's is very cool.
But cool comes with a price. To have such an immersive experience requires a lot of expensive equipment and a lot of personnel managing the service. The room I was sitting in had two big LCDs in the front of the room and seating for eight. It comes with a price tag of about $300,000. So it's no surprise that the majority of the interest in Nortel's telepresence has come from large financial institutions, and the installations for the most part are aimed at only "C-level executives." See below for some pictures of the experience.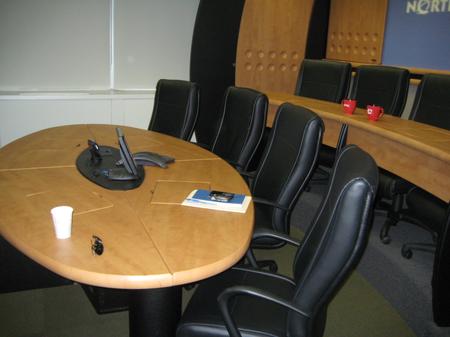 Happy Thanksgiving!
— Raymond McConville, Reporter,
Light Reading