The bigger they are, the harder they fall: That principle's illustrated in the latest optical transport market figures from The Dell'Oro Group.

The report indicates that the sinking fortunes of Nortel Networks Corp. (NYSE/Toronto: NT) have resulted in a 52 percent reduction in revenues for the company -- which in turn has slashed overall market growth by 22 percent.


"Nortel has a very large share of the optical transport market, and the optical shortfall last quarter can be attributed to Nortel's decline," says Shin Umeda, author of the report.

While Nortel founders, however, others have gained: Lucent Technologies Inc. (NYSE: LU), for instance, shows revenue growth of 29 percent, according to the report.

But that figure merely reflects Lucent's inevitable rise from an all-time low, Umeda says. "They're still far below where they were a year ago. Lucent reached its lowest point in the fourth quarter of 2000, so anything now is an improvement," he says.

Meanwhile, healthy revenue growth from Ciena Corp. (Nasdaq: CIEN) and Marconi Communications PLC (Nasdaq/London: MONI) aren't sufficient to tip the market scales just yet, since both those companies hold less than 10 percent of the overall market, according to Dell'Oro.

Still, Ciena's growth indicates strength in high-channel-count DWDM systems, while Marconi highlights ongoing strength in the European market, Umeda says.

Overall, Nortel is still top dog in the optical transport market, owning 29 percent of revenues in long-haul and metro DWDM gear, as well as Sonet/SDH multiplexers.

But sliding sales, which Nortel attributes to the slowdown in carrier spending, have ripped its share nearly in half: For the fourth quarter 2000, Nortel enjoyed close to a 52 percent composite market share, according to Dell'Oro (see Nortel: Top Dog, but for How Long?).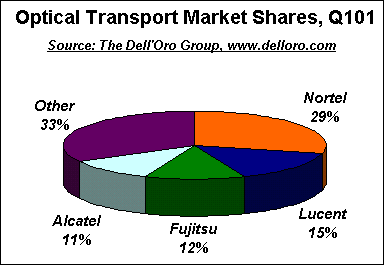 Nortel has a simple response to all this: "Wait and see." A spokesperson for the vendor says the company's "not surprised" by the quarterly report, given the overall economic downturn in carrier spending. But the company's confident that new products, such as the OPTera Connect HDX, will renew growth and stabilize the firm's market position (see Nortel's Got a Plan).

- Mary Jander, Senior Editor, Light Reading
http://www.lightreading.com