Nortel: Dark Rumblings From Ottawa
With its first-quarter 2002 earnings report due April 18,
Nortel Networks Corp.
(NYSE/Toronto: NT) is once again being hauled into the spotlight of investor concern.
In the process, the company's getting buffeted by criticism and speculation. It seems more dark heralds are expected from Ottawa, although just what the news will be (and how bad for shareholders) appears to be an open question.
In an effort to sift rumor from revelation, here's a rundown of the latest scuttlebutt and what it may -- or may not -- mean:
Rumor 1 Nortel's going to have more layoffs. A report issued last week by John Wilson, director at RBC Capital Markets speculated that Nortel would need a further substantial headcount reduction in order to meet its short-term financial goals, including levels of operating expense in keeping with some covenants it's signed with its creditors. Nortel treats this like no news: Its annual report states that 52,600 employees were on board as of December 31, 2001. Today, a spokeswoman writes: "We said on December 21 that we would be approximately 48,000 by the end of the first quarter."

Will these cuts of roughly 4,600 more this quarter be enough to lighten the operating load? Only time will tell. "The whole sector is suffering. We don't see a recovery this year and maybe not next. You're going to see more restructuring in general for the industry," says analyst Nikos Theodosopoulos of UBS Warburg.


Rumor 2 Nortel will miss its quarter. This appears to be a common assumption on Wall Street. "The chances that Nortel will tweak down its numbers are very good," says one analyst, who asked not to be named. "Everyone's scrapping for sales -- the downturn appears to be going on longer than expected."

But it looks as if the dip in expectations won't be too deep, at least in the short term. In a note dated March 15, for instance, Theodosopoulos and colleague Michael Urlocker of UBS Warburg predicted that Nortel will post a loss of $0.14 per share this quarter. Nortel had predicted its revenues would be about 10 percent lower than the last quarter, when the company posted a loss per share of $0.16 (see Nortel Reports on Q4).

Still, over the long term, the ongoing downturn appears to be taking its toll, and analysts aren't happy about its effects on Nortel. "We are reducing our NT estimates and price target based on continuing industry weakness," Theodosopoulos wrote last week. "Our new 2002 and 2003 estimates are -$0.25 and $0.08 down from -$0.19 and $0.21 respectively. Our new revenue estimates for 2002 and 2003 are $13.4B and $15.0B down from $14.95B and $17.4B respectively."


Rumor 3 A monster is lurking in Nortel's credit covenants. This does not appear to be true. Nortel now has about $4 billion in available credit, with about $1.575 billion of that subject to Nortel's maintaining specific levels of EBITDA and other financial markers of liquidity. Without an advanced degree in finance, the details are fairly inscrutable. But it appears that, despite a general note of alarm in last week's Canadian press, analysts are fairly optimistic that Nortel will be able to draw on its credit or get money in other ways this year. "We still expect Nortel to meet its minimum EBITDA covenants tied to its credit facilities this year even with our new estimate reductions," write the Warburg analysts. Whether the cash infusion solves the company's problems, however, or helps its return to profitability, are in doubt. Theodosopoulos, who hasn't recommended Nortel stock for many months, isn't saying anything further.


Rumor 4 Nortel will try to drum up cash through acquisitions and mergers. There appear to be two variations on this theme: One calls for Nortel to buy the wireless division of Motorola Inc. (NYSE: MOT), then turn around and spin off the acquisition along with its own wireless holdings. A second scenario has Nortel selling its optical assets to Cisco Systems Inc. (Nasdaq: CSCO).

Both seem outlandish to some sources. "I think the Motorola thing came from some bankers hopefully speculating," says the unnamed analyst quoted earlier. "And, hopefully, Cisco learned its lesson with Pirelli."


When it boils down, the rumors and speculation swirling around Nortel seem to center on a few key points. One is the company's ongoing reliance on legacy Sonet hardware -- and its reduced hope of breaking into new markets aggressively enough to come out ahead anytime soon.
In its recent annual report, Nortel revealed to what extent its overall sales have slowed and indicated that optical networking, optical Ethernet, and even wireless are coming up short: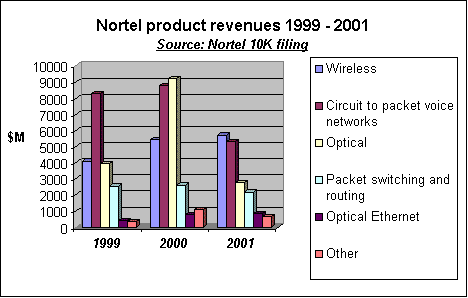 Other concerns center on Nortel's management. New CEO Frank Dunn appears to be a relative unknown to many on Wall Street. Worse, he seems to be thought of as "old guard" and stodgy, someone who may be unable to help pull the company through the industry doldrums.
— Mary Jander, Senior Editor,
Light Reading
http://www.lightreading.com
EDUCATIONAL RESOURCES


PARTNER PERSPECTIVES
- content from our sponsors