Talk on the street today has Nortel Networks Corp. (NYSE/Toronto: NT) linking up with Avici Systems Inc. (Nasdaq: AVCI; Frankfurt: BVC7) in some sort of tight partnership, possibly even an outright acquisition, says a reliable source.

Other sources confirmed that the two have explored partnerhips in the past, but nobody could confirm the details of the current deal on the table. The two do have a history together. Prior to Avici's IPO in 2000, Nortel was an early investor in the startup, and they had a non-exclusive relationship at one point, before Nortel moved on to working with Juniper (see Avici IPO Heats Up and Juniper-Nortel "Alliance" Gives Pause).

The action in Avici's stock may be enough to indicate something may be up. Avici was up $0.33 (4%) to $8.48 on heavier-than-usual volume in Tuesday afternoon trading.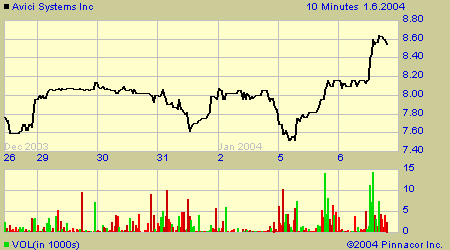 "This deal was talked about months ago, but it may now be happening," says the source, who is a telecom equipment executive. "Nortel is an investor, and they don't like the partnership with Juniper because Juniper partners with everybody."

The deal does make sense, and here's why: In the past, Nortel has depended heavily on its reseller agreement with Juniper Networks Inc. (Nasdaq: JNPR) to supply its largest customers with IP routing gear. But that partnership never blossomed into anything bigger, such as product co-development or acquisition. Meanwhile, Juniper's been racking up deals with all of Nortel's competitors. In fact, its roster of partners now includes Siemens AG (NYSE: SI; Frankfurt: SIE), LM Ericsson (Nasdaq: ERICY), and, most recently, Nortel's North American archrival Lucent Technologies Inc. (NYSE: LU). Because Juniper has so many channel partners, some sources say that Nortel is now disenchanted with the Juniper relationship.

Juniper says everything's peachy with Nortel, and the partnership is working. "We have a partnership with Nortel that's ongoing, and we're not aware of any issues," says a Juniper spokeswoman.

But if Nortel is unhappy, it may act quickly. These days, with telecom equipment moving more rapidly toward packet-based networks, it's become more important than ever for Nortel to have a good IP routing story. The most natural fit is Avici, the third-largest supplier of IP routing gear behind leaders Cisco Systems Inc. (Nasdaq: CSCO) and Juniper.

One fund manager, asking not to be named, said a deal with Avici makes sense, though he's heard nothing specific. "Yes, it makes sense if they think there is leverage in the platform. And the valuation is still reasonable."

At Tuesday's market price, Avici had a market cap of about $100 million. Gross revenue for the quarter ended September 30, 2003, was $10.5 million (see Avici Boosts Top Line). Avici ended the quarter with plenty of cash -- about $60 million -- and no debt. But it is still losing money: Its GAAP net loss was $9.1 million, or $0.75 per share, which included several charges. Excluding these charges and credits, the net loss was $8.7 million, or $0.72 per share.

With $60 million in cash and short-term investments ($100M if you include long-term investments) and recent quarterly growth, Avici's market multiple is cheap relative to its peers. Assuming it can keep up modest quarterly growth and do $50 million in business in 2004, that gives it a forward multiple of only two times sales, which is below the industry norm. Juniper, for example, trades at about 12 times sales.

Nortel said it does not comment on market rumors, and Avici could not be reached by press time.

— R. Scott Raynovich, US Editor, Light Reading