N+I: Best in Show
After three days of tramping the halls at
NetWorld+Interop
, you get rather sick of it all – the flashing lights, the noise, the vapid booth presentations that promise the planet, yet can't even deliver a 19-inch rack unit on time.
Which is why the idea of doing a conventional best-of-show list elicits an involuntary gag reflex. [Ed. note: And that's nothing at all to do with all the apple martinis, right, Dan?]
Instead, let's look at what really floated our boat at this show: The gimmicks, the people, the silliness, and – of course – the parties.
Best Marketing Gimmick:
Hands down, the devil duck from startup
Firetide Inc
.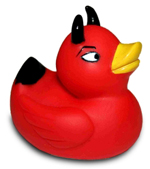 And to think that, before the duck, your faithful correspondent would have been hard-pressed to say exactly what Firetide even did (metropolitan wireless backhaul with some interesting twists, as it turns out). Now, bath times will never be the same at the
Unstrung
residence.
Best Rec-Room Furniture Circa 1982:
The
swinging
leather three-piece suite in
Cisco Systems Inc.
's (Nasdaq: CSCO) private interview space at the show. "Looks like the furniture I bought when I was in college," quipped Bill Rossi, VP and general manager of Cisco's wireless networking business unit.
At that point, your correspondent decided not to mention he'd just bought a sofa exactly like it.
Most Devotion to Duty:
Aruba Wireless Networks
' frenetic communications manager, David Callisch, could frequently be seen leading interested punters around the startup's booth behind an "eNet Tours" sign, like some kind of pied piper of wireless LAN. We tried not to giggle
too
much, honest...
Closet Intellectual of the Show:
Never one to hide his literary bent under a bushel,
Airespace Inc.
marketing VP Alan Cohen told us that since we published his fiction recommendations in
Something for the Weekend, Sir?
, several people at the show had asked him what's next on his reading list. Alan declined to share that information with us... something worthy, we suspect...
Best Lengthy Drop:
Broadcom Corp.
(Nasdaq: BRCM) held a party at the swanky Ghost Bar at the Palms hotel on Wednesday night. The bar is over 50 stories up and offers a panoramic view of the Vegas skyline. Yet the most breathtaking view was the one below your feet... if you were standing on the large Plexiglas™ panel installed in the outdoor deck at the side of bar.
Unstrung
watched several people get very wobbly after taking in the massive drop... and we don't think it was just the booze.
But – no matter how classy or expensive the bar in Vegas – it seems you can't escape the wretched cover bands that infest the entire town. Somehow it just seems wrong to be suited and booted with a nice glass of wine in your hand yet have to suffer another take on "
Sweet Home Alabama
."
Until next year...
— Dan Jones, Site Editor,
Unstrung
EDUCATIONAL RESOURCES


PARTNER PERSPECTIVES
- content from our sponsors