New Treo for Sprint Debuts

Comment (0)
Expanding on its popular 700 series,
Palm Inc.
today released the Treo 700wx, a smartphone/PDA device running on the
Sprint Wireless
(NYSE: PCS) network and based on the Windows Mobile 5.0 operating system.
Offering all the features of the 700w, which was released in January of this year and is offered exclusively by
Verizon Wireless
, the new Treo doubles the memory of that device, offering 64 megs of RAM, equivalent to the typical Windows Mobile Pocket PC memory level. (See
CES: The Microsoft Palm
.)
The new Treo expands on Palm's Windows Mobile-based line at a time when the future of its proprietary operating system is in doubt thanks to deadline disputes with PalmSource, which owns the OS. (See
Palm Platform in Doubt
.)
It also features new mute and speakerphone icons, as well as access to
Good Technology Inc.
's Mobile Messaging application for push email through an onscreen icon that allows simple and rapid provisioning.
The 700wx's most significant feature, however, may be its USB port for dialup networking, which gives users on the go access to Sprint's "Power Vision" EV-DO network on their laptop computers. The new smartphone acts as a wireless modem, providing an alternative to WiFi networks in coffee shops, hotel rooms, airports, and other public spaces.
Sprint's EV-DO network offers data speeds of up to 400-700 kbit/s.
Early reviews of the new device on Palm enthusiast Websites have been near-rapturous.
"The Treo is hard to beat in any form, and the 700wx improves on the 700w by adding more memory," writes Lisa Gade, editor of
Mobile Tech Review
. "This and the 700w are by far the easiest Windows Mobile Pocket PC phones to use one-handed and Palm's usability enhancements and hardware design are a winning combination."
"Ladies and gentlemen, I'm here to tell you: the Treo 700wx rocks," adds Dieter Bohm of
TreoCentral
. "It multitasks like a champ."
The geeks' only complaint: Like the Treo 700w, the new Treo does not support WiFi.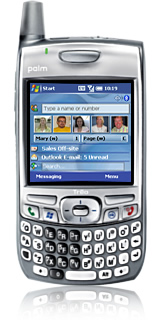 — Richard Martin, Senior Editor,
Unstrung
EDUCATIONAL RESOURCES

PARTNER PERSPECTIVES
- content from our sponsors
GUEST PERSPECTIVES
- curated contributions