Whether a network function is deployed on a dedicated hardware platform or as a virtual network function (VNF), communications service providers (CSPs) need to be sure they are going to get a certain level of performance at real-world operational scale: "Carrier grade" is not optional -- it's a must have.
So as CSPs start to introduce VNFs into their next-generation network rollout plans, one of the main questions they'll be asking as their vendor partners offer virtual alternatives to traditional bespoke boxes is -- can VNFs achieve carrier-grade performance levels?
That's why Light Reading's independent test lab partner, EANTC, has focused on performance and scalability during its recent evaluations of a number of Nokia VNFs.
Earlier this year, Light Reading published a test result report following EANTC's evaluation of Nokia's Virtualized Service Router (VSR) and Virtualized Mobile Gateway (VMG): They key takeaway from that set of tests was that Nokia has a set of VNFs that not only passed EANTC's exacting tests, but passed with flying colors across a variety of scenarios. (See Validating Nokia's IP Routing & Mobile Gateway VNFs and EANTC Tests Nokia IP Routing & Mobile Gateway VNFs for Real World Deployment.)
Now the EANTC team has revisited Nokia's labs in Mountain View, California, to test two more of the vendor's VNFs, both of both of which run on Nokia's VSR.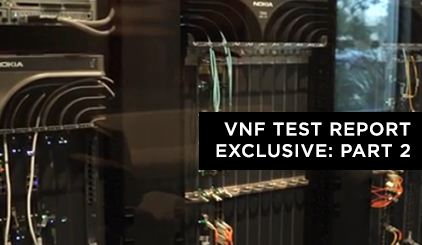 The virtual Broadband Network Gateway (VSR-BNG), which plays an important role in subscriber management and the delivery of multimedia services to residential broadband users, and virtualized Application Assurance (VSR-AA), which performs a number of deep packet inspection (DPI)-related tasks, were both put through their paces to see if they could stand up to the production network performance and scalability standards expected by CSPs.
As you'll see on the following pages -- which provide a detailed explanation of the tests, how they were set up and the outcomes -- the VSR-BNG and VSR-AA met the brief in terms of throughput, subscriber load, redundancy (in multiple potential downtime scenarios) and feature functionality.
The key takeaway is that CSPs can be confident that these VNFs are ready to move out of the lab and proof of concept setup and into the network as part of a next generation, cloud-oriented transformation: Network functions virtualization is ready for prime time.
The following pages tell the story of the multiple tests undertaken by the EANTC team:
Page 2: Introduction, Executive Summary and Test Highlights
Page 3: Nokia Virtualized Service Router — Broadband Network Gateway (VSR-BNG): The Test
Page 4: Test results: VSR-BNG — Lifecycle Management
Page 5: Test results: VSR-BNG — Scalability and Performance
Page 6: Test results: VSR-BNG — Multi-System Redundancy
Page 7: Nokia Virtualized Application Assurance (VSR-AA): The Test
Page 8: VSR-AA -- Scalability and Performance Tests
Page 9: VSR-AA – Features and Functionality
We also now have a single PDF document that pulls together the full range of Nokia VNF tests undertaken by EANTC: That document can be accessed by clicking on this link.
— The Light Reading team and Carsten Rossenhövel, managing director, European Advanced Networking Test Center AG (EANTC) (http://www.eantc.de/), an independent test lab in Berlin. EANTC offers vendor-neutral network test facilities for manufacturers, service providers, and enterprises.