CEO Chat: Nokia's Steve Vogelsang

Comment (4)
I've known Steve Vogelsang for more than 20 years, since his time at FORE Systems, the ATM pioneer (that's "asynchronous transfer mode," not "automatic teller machine," for you young'uns in our audience), and then as a founder at edge router startup Laurel Networks.
We lost touch for a bit while I was spending a few years on gardening leave (tending vegetables, mainly), but when I rejoined the telecom industry in 2014, Steve was one of the first people I saw (a chance meeting in the lobby of the San Francisco Westin). By that time he'd attached himself to Team Basil Alwan at TiMetra, which had been acquired by Alcatel, and was, as we now know, destined to become part of the "new" Nokia Corp. (NYSE: NOK), where he now serves as CTO of IP and Optical Networks. (See Nokia, AlcaLu Steady Ship on Costs Before Tie-Up and Nokia Confirms Leadership Team.)
In other words, Steve has more experience with bleeding-edge technology than just about anyone in our industry, and in these days of totally unprecedented tech disruption, and unprecedented hype, that's an absolutely essential characteristic. Steve's extensive experience has clearly influenced his take on technology; he's known for being a pragmatist and, indeed, a skeptic, and not someone who is going to go all in on the latest industry bandwagon without doing his own meticulous analysis. (Behind his back, colleagues refer to him affectionately as the CCO, or Chief Cynical Officer, something of which he isn't aware... until he reads this, obviously.)
It's not often that I've seen Steve get excited about anything, which is why it's interesting to see him so energized on the topic of virtualization.
Well, now Steve has a new title to add to his illustrious CV: President of the The New IP Agency (NIA), the not-for-profit independent initiative providing information, education, analysis, community services and testing to support and accelerate the development of a global economy based on open, advanced, virtualized IP networks. (See 5 Firms Join NIA As It Enters Phase 3 and Colt Says NIA Can Help Speed Up NFV Rollout.)
I sat down with Steve to get his take on the NIA's mission and also to get some insights into life at Nokia. It was a great conversation with a nice guy and someone for whom I have a huge amount of respect.
If you enjoy this interview, I strongly encourage you to attend Steve's keynote at Light Reading's Big Communications Event (BCE) in Austin, Texas, on May 24 and 25.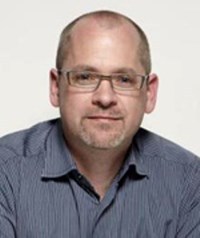 Steve Saunders: Hey Steve. How are you?
Steve Vogelsang: Good.
SS: How are things going with the Nokia integration? Keeping you busy?
SV: Yeah, absolutely. I just arrived back home this morning on the red eye, so another wonderful day of being half-asleep.
SS: I'll try not to take advantage of that by asking you hard questions. Let's start with the big one: Why did Nokia feel it was important to join the NIA?
SV: Good question. We see that there's a pretty major change happening, with service providers virtualizing their infrastructure and adopting IT technology to make their networks more efficient and more agile. We believed the industry really needed a forum where we could come together and drive collaboration.
SS: Right.
SV: We don't have all the answers and there's no single entity that has all the answers. We really need to establish those communication channels to get service providers, the vendors and standards organizations, all the groups out there, coming together and sharing information in a productive way.
SS: Over time, what do you see the NIA becoming? Will it be like a GSMA type of organization or should it have a more educational goal? And what about independent testing?
SV: Probably a bit of all of them. It's still early days. We only formed the NIA literally just a few months ago. From my perspective, what the NIA is already beginning to do is provide real, pragmatic information for service providers that are looking to deploy virtualized infrastructures. The testing is a big part of that, because it gives you a sense of reality -- what works, what doesn't work.
In addition, I also see the collaboration starting now within the NIA, bringing together vendors in testing. You start to establish a dialogue and understand how each other's products work. I think that really helps to drive the process forward. Where this goes longer term, I'm not sure. We'll have to wait and see!
SS: It has taken off very quickly, hasn't it? Congratulations on that. One of the things I think is apparent from the interest in the NIA is that there's a learning curve around virtualization, and in some ways the vendors, or the solution providers, are further ahead in understanding the technology than some of their customers, the service providers. Where do you think the service providers are in the learning curve around NFV right now?
SV: For the most part, all of the service providers have begun to build cloud infrastructure and really understand how it works, and what the moving parts are. And I think they're realizing that the moving parts of cloud infrastructure involve a lot of open source code. You really need a software development team that understands how to put all these pieces together. In the vendor community we tend to have more of those resources than the service providers, so that's the main reason we've been a bit ahead. The service providers are starting to build some of that up, but over time they'll probably end up leaning back on the vendor community, because that's what we do. Our role in the industry is to help them build infrastructure.
SS: Is the NIA's testing program equally important to the vendors that are involved as it is to the service providers?
SV: It's about the same level of importance to both of them, but for different reasons. For the vendors it allows us to showcase some of our products and functionality, and do so on a broader stage, which is very helpful when we interact with customers. But the scale of the testing is also fantastic for the service providers. In the first NIA test we evaluated more than 60 combinations of VNFs [virtual network functions] and NFVi (NFV infrastructure]. There's no way for them to do that testing themselves. It would take them forever -- they'd be at it for a year.
So just by coordinating that interoperability testing, and doing it very quickly, gives the service providers an initial analysis of where the industry is with NFV; what works, what doesn't. And that's incredibly important to moving the industry along. That's why it's so important for the NIA to continue with its test program.
SS: The entire industry is becoming far more focused on software. Where is hardware still critical?
SV: The simple answer is everywhere, because even virtualized software needs to run on hardware.
SS: [Laughs] Good point!
SV: I tend to think of it a little bit differently. It really comes down to what type of hardware is required for different functions. For the heavy machinery that still goes in access and aggregation and core networks, you still want workload specific processing. We're still using processors, but we're using processors that are designed specifically to move packets. That will continue.
But the shape and type of processing that we use will vary depending on where you are in the network. In aggregation networks, access networks, I think we're going to see more fixed function type processing, so we can really drive the cost.
Nearer to the core, and the areas where you have dense connectivity, where you're interconnecting tiers and managing multiple different services, you probably need more flexible packet processing functionality.
And finally when you get into value-added services, that's where the commodity x86 type of environment will play, because it gives you the flexibility to really do anything you want. The other thing that we see happening in that environment are the functions, like network slicing, where you want to spin out a dedicated network for the customer, whether it's an enterprise customer, or an IoT deployment. A lot of that functionality will move into the x86 environment, because you can spin it up quickly.
But then at some point in the future, if you really need to scale it, we may be able to do some optimization, and move on to, again, what I call workload-specific processing, using purpose-built chips optimized for packet processing.
Next page: Industry consolidation and competitive pricing