Brocade: IP Networking Up, But Storage Down

Comment (0)
Brocade reported second-quarter 2015 revenue of $547 million Thursday, up 2% year-over-year and down sequentially. The company said IP networking revenue was up following its acquisitions of two businesses, but storage revenue was down.
IP networking product revenue was $145 million, up 19% year-over-year, primarily due to higher sales of routers, up 40%, and Ethernet switches, up 8%, as well as higher software networking revenue, Brocade Communications Systems Inc. (Nasdaq: BRCD) said. (See Brocade Reports $547M 2Q 2015 Revenue .)
That revenue now includes the SteelApp application delivery controller business that Brocade acquired from Riverbed, as well as Connectem, an LTE virtual Evolved Packet Core (vEPC) vendor. Both acquisitions closed in the second quarter, which ended May 2. (See Brocade Scoops Up Riverbed's SteelApp ADC and Brocade to Acquire Connectem for Virtual Mobile Networking .)
Service provider and US federal customers drove increased year-over-year IP sales.
Net income was $77.04 million, compared with a loss of $13.684 million in the year-ago quarter. GAAP diluted earnings per share were $0.18, up from a year-ago loss $0.03 per share and down from $0.20 in the first quarter.
The Brocade board declared a quarterly cash dividend of $0.045 per share, a 20% increase of the previous dividend, payable July 2.
For the third quarter, Brocade expects revenue of $540 million to $560 million, with SAN (storage area networking) revenue down 2% to 6% quarter to quarter and IP networking revenue up 9% to 13% quarter to quarter.
Brocade's stock traded at $11.90 after hours Thursday, down 1% from close.
"Our portfolio of [IP networking] solutions is addressing the key trends in IP Networking -- including the emerging IP storage market and the adoption of New IP technologies for cloud, social and mobile requirements," CEO Lloyd Carney said, reading from a prepared statement on the earnings call. (See Introducing 'The New IP' .)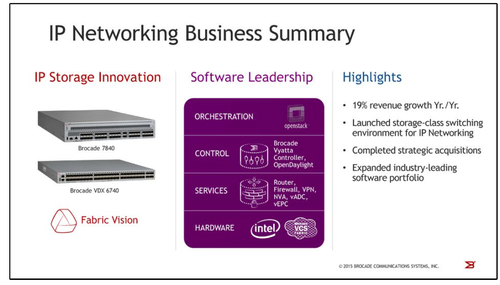 ---
Want to know more about IP networking? This will be just one of the many topics covered at Light Reading's second Big Telecom Event on June 9-10 in Chicago. Get yourself registered today or get left behind!
---
Brocade's strongest carrier customers are mobile operators and the "megascale data center guys," Jason Nolet, SVP of switching, routing and analytics product group, said. The company also sees strong demand from federal and large enterprise customers. Brocade products are used for data center routing and data center to data center connectivity applications, where they compete with products from Cisco Systems Inc. (Nasdaq: CSCO), Juniper Networks Inc. (NYSE: JNPR) and Alcatel-Lucent (NYSE: ALU), as well as network packet broker applications.
That's the good news. The bad news is SAN product revenue was $314 million, down 2% year-over-year and 11% sequentially. The decline was mainly the result of softer storage demand and operational problems at some OEM partners, Brocade said.
Global Services revenue was also down -- 7% year over year, to $88 million, primarily due to the additional week of support revenue recognized in the year-ago quarter, which was a 14-week fiscal quarter for Brocade. But Global Services revenue was also down 2% sequentially because of the timing of some large support orders.
— Mitch Wagner,

, West Coast Bureau Chief, Light Reading. Got a tip about SDN or NFV? Send it to [email protected]
PARTNER PERSPECTIVES
- content from our sponsors