SAN JOSE, Calif. -- Yet another peer-to-peer (P2P) video startup has arisen, this time putting an emphasis on the ability to let one user cheaply stream video to the world.

Neokast made its first pubic appearance this week at the Spring VON 2007 show and has tentatively set April 2 as its site launch. For now, Neokast's Website just shows an invitation for the beta test.

The Neokast founders are taking their debut seriously. More than half the staff of eight is here from Illinois, sporting dark suits instead of the unshaven Web 2.0 look.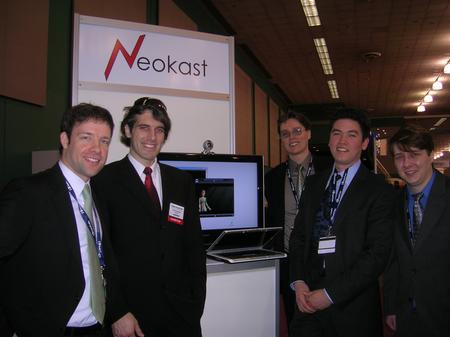 Neokast was born from the P2P research done by Stefan Birrer, a grad student at Northwestern University (home to WNUR-FM, one kick-ass radio station).

Neokast's VON demo displays video on a high-definition TV screen and on a laptop. The setup uses a 1-Mbit/s connection, but a mere 700 kbit/s is adequate for the source computer to start streaming, the company founders say.

Plenty of video startups are looking to P2P as a way to deliver bulky HD files. BitTorrent and Joost are the most famous examples; Azureus Inc. is trying it, too; and Veoh Networks Inc. wants to give it a go. (See P2P Camp Swarms Video.)

Unlike most services, Neokast is putting its first emphasis on live streams -- or streams from a file, which could be joined in progress -- rather than video-on-demand. The concept comes from the P2P protocol Birrer developed in his research. "I saw something that was missing -- the true live experience, in scaleability and quality," he says.

Neokast can support a theoretical infinity of users without needing an infinite number of seed servers. Most P2P protocols have an upper limit to the number of users supportable, the Neokast team claims. "Typically, they just have a bunch of really advanced servers, and there's only so much bandwidth they can handle," says Noah Clemons, the company's "Chief Information Architect."

More important than the number of users is the fact that Neokast lets one person stream video on the cheap, Clemons says. "Suppose you're CNN. Yeah, they have a great service for streaming, but they spend millions of dollars to do that.".

Neokast plans to offer a free service as well as professional services that would be "much less expensive" than a content delivery network (CDN) such as what Akamai Technologies Inc. (Nasdaq: AKAM) would offer, Clemons says.

Neokast got started 11 months ago and so far has used money from just one angel investor. The company is "in the process" of getting more funding, Birrer says.

To hear Neokast tell it, investors aren't tired of the Internet video thing yet. "We find the people talking about funding are more enthused than anything else. You expect them to be skeptical," Clemons says.

— Craig Matsumoto, West Coast Editor, Light Reading