Movaz on the Move
Optical switch startup
Movaz Networks
broke cover this week. But the company raised many questions along with its emergence.
Movaz surfaced by signing a ten-year agreement with
The BF Goodrich Company
(NYSE: GR), which calls for Goodrich to supply MEMS (micro-electro-mechanical systems) exclusively to Movaz. The startup's product is expected to start beta tests later this year.
The announcement gives a general idea of what Movaz is up to. "We're building a platform capable of delivering wavelengths at the same price and in the same way STS1s are delivered today," says Movaz CEO Bijan Khosravi.
To make this happen, he says the product will incorporate its own management and signaling for setup and tear-down of wavelengths using DWDM (dense wavelength-division multiplexing).
Movaz's interest in this type of optical signaling is evidenced by its participation in the Generalized MPLS (multiprotocol label switching) working group at
The Internet Engineering Task Force (IETF)
.
Indeed, Movaz places sufficient priority on standards work to have named one of its executives, Lou Berger, to the post of VP of protocol development. Berger, a former consultant and IP expert, helped coauthor the G-MPLS signaling draft issued September 2001. According to that document, G-MPLS "describes extensions to MPLS signaling required to... [extend] MPLS control... to encompass time-division (e.g. SONET ADMs), wavelength (optical lambdas) and spatial switching (e.g. incoming port or fiber to outgoing port or fiber)."
Movaz's participation in the IETF signals not only that it aims to conform to IP standards, but that its product will operate in peer-to-peer fashion across optical networks. (See
Top 10 Trends
for a clarification of how this differs from other proposed approaches to "intelligent" optical networking.)
Khosravi confirms this. "Our product will operate in distributed fashion in an optical network," he says. "It won't rely on a central switch."
Given all these factoids about Movaz, it's likely its switch will fit into the optical market alongside other MEMS-based optical-electrical-optical (OEO) crossconnect switches from the likes of
Brightlink Networks Inc.
,
Ciena Corp.
(Nasdaq: CIEN),
Cisco Systems Inc.
(Nasdaq: CSCO),
Nortel Networks Corp.
(NYSE/Toronto: NT),
Sycamore Networks Inc.
(Nasdaq: SCMR),
Tellabs Inc.
(Nasdaq: TLAB; Frankfurt: BTLA), and
Tellium Inc.
.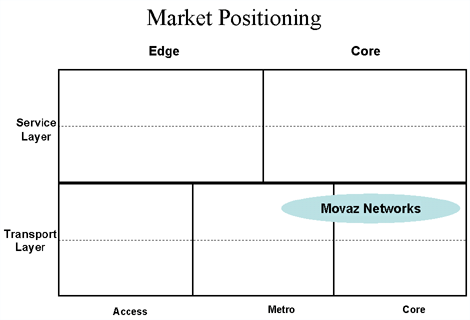 But questions remain about whether Movaz can execute on its plan. For one thing, what about Goodrich? On the plus side, Movaz has cleverly aligned itself with a larger manufacturing partner that not only can provide it with capacity and parts but also needs its help. Goodrich, having divested itself of various businesses such as the making of tires, is eager to emphasize its identity as an engineering company with cutting-edge expertise. Getting involved with an optical startup showcases this transition.
Goodrich does have years of MEMS experience in aerospace and automotive applications and a 15,000-square-foot MEMS R&D facility with 85 engineers in Cincinnati. Still, it remains to be seen how well Goodrich can make the shift to telecom applications.
Movaz has already scored $30 million in funding from
Menlo Ventures
and
WorldView Technology Partners
. It has over 180 employees. Headquarters are located in Norcross, Ga., with offices in Tyson's Corner, Va. Movaz also will be sharing Goodrich's facilities in Cleveland on a permanent basis. And plans are underway to open offices in Ottawa.
The executive team includes Khosravi, who headed up marketing at Siara Systems before and shortly after its merger with
Redback Networks Inc.
(Nasdaq: RBAK) (see
Redback's Khosravi Question Answered
). Daniel Awduche, most recently of
WorldCom Inc.
(Nasdaq: WCOM), is VP of network architecture. David Smith, a veteran of Bellcore and a former professor at Ohio's Case Western Reserve University, is CTO. Zouhier Mansourati, formerly of Nortel, is VP of product line management.
-- Mary Jander, senior editor,
Light Reading
http://www.lightreading.com
EDUCATIONAL RESOURCES



PARTNER PERSPECTIVES
- content from our sponsors