Motorola Inc. (NYSE: MOT) has kicked off the new year with the launch of eight new handsets, in an effort to bolster its position as the world's number two handset firm behind Nokia Corp. (NYSE: NOK) (see Moto Unveils New Handsets).

With less than 15 percent of the global market in the third quarter of 2002, compared with Nokia's near 36 percent, Motorola has some ground to make up, especially as Samsung Electronics Co. Ltd. (Korea: SEC) is gaining ground in the third spot (see Nokia Extends Handset Lead). But, although the U.S. handset vendor's latest releases have the right elements, it is not an inspirational lineup, according to analysts. This view has been exacerbated by an unfortunate leak last September of plans for 2003 (see Motorola: Next Year's Models?).

"In general, while we are encouraged by Motorola's use of color, MMS, and cameras in the mix, in our view no major new initiatives were unveiled," say wireless sector analysts at Lehman Brothers.

Richard Windsor, a communications equipment analyst for Nomura International, agrees. "Although this represents a significant enhancement to the existing range, there doesn't appear to be anything drastically new here when compared to the original leak." He even feels that more is required if Motorola is to make any market share progress. "We think that Motorola has done enough to maintain its current position, but feel that real market share gains in GSM/UMTS are going to require a more tightly targeted and more innovative portfolio."

The team at Lehman feels that the coming months may see further models unveiled. They note that only three of the eight models are due for release in the first half of 2003, and only one of those has an integrated camera. Consequently, they believe that the upcoming flurry of tradeshows -- 3GSM in Cannes (February 17-21), CeBit in Hanover (12-19 March), and the CTIA show in New Orleans (17-21 March) -- could see new platforms and, particularly at CTIA, some new models for CDMA2000 1x.

So what did Motorola unveil this time in Shanghai? Here's a rundown.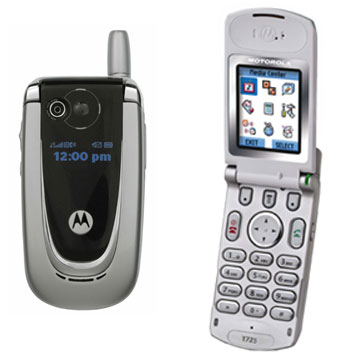 Above left is the V600, and on the right the T725. The T600 is a GSM/GPRS model with an integrated camera and color screen that is due to be available in the third quarter, about nine months behind the competition, notes Windsor at Nomura. The Lehman team expects a CDMA version to be released at some point. The T725 is Motorola's EDGE handset, with clip-on camera rather than integrated device, that is set to launch at the same time (quarter three) as Nokia's EDGE offering for the North American market (see Nokia Launches EDGE Device). Again, Lehman analysts expect a CDMA version to be unveiled.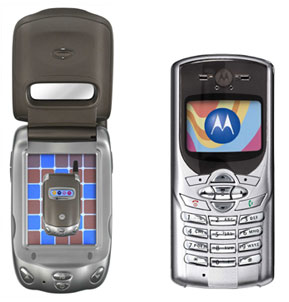 Say "Hello Moto" to the A388c (above left) and the c350 (right). The GSM/GPRS A388c is one of the devices that are due to launch in the first half of this year. It's a color version of an existing product already in the Asian market. This is a high-end model with "an emphasis on synchronization and email," says Windsor. The c350, another first half of year model, is a low-end GSM/GPRS device for global distribution, but it does not support MMS. Windsor describes it as a "fashion phone."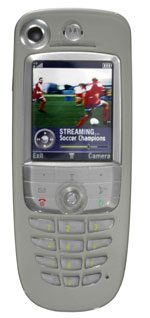 This is the A835, Motorola's second dual-band, GSM/UMTS 3G phone (the A820 is already with Hutchison 3G UK Ltd.) that will be available in the second half of this year. It has all that you would expect -- video capability, Bluetooth, Java, and a whopping 256 Mbytes of memory. The "sleeker form factor" gives it an edge over other UMTS handsets, the Lehman team believes, with room for further improvements before the market for bulk demand takes off in 2004. Nomura's Windsor also fancies the look, saying that it "looks promising to address the fledgling 3G market." Motorola itself says the phone has "enough features to make anyone drool." Let's not dwell on that thought.

As we went to press, Unstrung could not get decent digital photos of the three remaining models:

The E380, a GSM/GPRS MMS-enabled handset, is a low-end model for the gaming users in Asia and is set to be available in the third quarter of 2003. It features "polyphonic sounds, flashing lights, and enhanced vibration/motion capabilities."

The V295 is a GSM/GPRS handset with an integrated camera and color screen for the Asian market that includes instant messaging functionality. It's due in the first half of the year.

The E365 is another GSM/GPRS device with a color screen and integrated camera that will likely compete with Nokia's 6650, according to the Lehman crew. Again, this will appear in the Asian market during the second half of the year.

— Ray Le Maistre, European Editor, Unstrung