Moto Chases 3G Success
Motorola Inc.
(NYSE: MOT) has been talking up its plans to grab market share in the 3G cellular infrastructure sector, touting potential future wins at
KDDI Corp.
and
Verizon Wireless
and new carrier deals in Asia.
According to the latest
Unstrung Insider
report -- "Open Base Station Bonanza" -- Motorola currently commands an 8 percent share of the total mobile infrastructure market, trailing rivals
Ericsson AB
(Nasdaq: ERICY),
Lucent Technologies Inc.
(NYSE: LU),
Nokia Corp.
(NYSE: NOK), and
Siemens AG
(NYSE: SI; Frankfurt: SIE).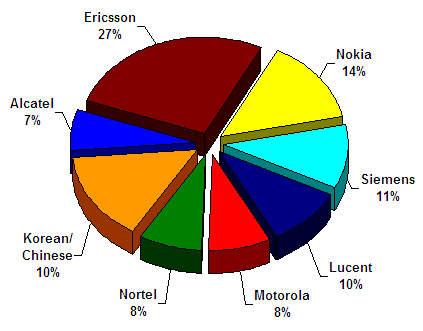 Although the vendor has a strong customer base in so-called "2G" technologies such as GSM (Global System for Mobile communications) and CDMA (Code Divison Multiple Access), Motorola has not been as quick off the mark with next-generation deployments. To date, the company has only recorded one commercial wideband-CDMA deal at Portugese carrier
Optimus Telecomunicacoes
(see
Moto Wins Euro 3G Deal
). Meanwhile Motorola has also missed out on two lucrative CDMA upgrade deals at existing customers KDDI and Verizon (see
Verizon Picks Lucent, Nortel
and
Hitachi Beats Samsung at KDDI
).
Motorola claims this could be set to change, however. Speaking on a
Merrill Lynch & Co. Inc.
conference call this week, the vendor suggested it could yet win CDMA 2000 1xEV-DO deployments in Japan and the U.S. "We are in fact moving forward with DO with all our customers -- contracts to be announced when the customers want to announce contracts, not when we necessarily do the work with them or plan to do the work with them," said Adrian Nemcek, president of Motorola's networks division.
As for its W-CDMA aspirations, Nemcek is keen to tout China and India as future market success stories. "We have been investing in the technology and working with the key operators going forward in the growth markets in the world that have decisions to make on W-CDMA. I think you are going to see announcements as we go forward this year and into next year. You are going to see us participate in this marketplace.
"The opportunity we face is that Motorola is the single largest name in terms of foreign companies participating in China... We have a strong brand name, strong customer relationships, and strong performance in terms of market share... Do we have probably the strongest position in China going forward? I think we do."
Nemcek also played down the possibility of acquiring a rival player in an attempt to boost its W-CDMA fortunes. Going forward, of course. — Justin Springham, Senior Editor, Europe,
Unstrung
The report,
Open Base Station Bonanza
, is available as part of an annual subscription (12 monthly issues) to
Unstrung Insider
, priced at $1,350. Individual reports are available for $900. To subscribe, please visit:
www.unstrung.com/insider
.
EDUCATIONAL RESOURCES


PARTNER PERSPECTIVES
- content from our sponsors