The results are in!

It's been two weeks now, since Light Reading inaugurated its epoch-making Name the Monkey! contest. The response, needless to say, has been whelming in the extreme. Whether drawn by the lure of fabulous prizes or by a felt kinship with their prehensily enhanced cousins, Light Reading's message-board posters have been frantically marking their territories and displaying their colorful, protuberant bottoms. Balloting, in other words, has been fast and furious. Our team of certified-official-ballot-counter-type-people were sweat-soaked from the embarrassment of riches.

So it is, dear friends, that, wielding our godlike editorial authority, we're stopping the madness now!

But how to choose among: The melifluous "Bananalambda" (from melao)? The menacing "Rumsfeld" (BLM)? The peerless "lord simpson" (anh115)? The too-scholarly-by-half "ðßèçêïò/pithikos" (chumly)? And countless (well... a couple hundred) others, mostly too lame to mention?

In a perfect democracy, the name of choice would be "Spank" (or a variation thereof) or "BobbyMax" (or "BoobyMax"). But this is not, alas, a perfect democracy (see: Katherine Harris). As for the former: Sorry, likebizy, gadfly, tdude, Elvis Doesn't Live, lightFleeting, and Dr.NewWave – It's much too naughty for a family publication, and it's (obviously) not highly original. As for the latter: chips, OptoGirl, buliwyf, cfaller, gea, and rafaelg – do we really need to see that name on our site any more than we already do?

"Saunders" got a few votes from some maladapted ingrates who failed to read the fine print (Entries containing 'Steve,' 'Saunders,' or any combination thereof will not be accepted.). So be advised, furio, BLM, and rafaelg: We know where you live!

So much for Honorable (yeah, right) Mention. Now, without further ado...



* * * * *

The Official Light Reading Monkey Mascot Is Hereby Designated:

Larry

That's right: LARRY! Anybody got a problem with that? Sic'em, Larry!





And our Lucky Winners are:


1st Prize Winner: A fashionable Light Reading T-shirt goes to:



crapshooter



Overlooking the scatalogical implications of his/her/its cognomen, the shooter of crap was the only entrant to correctly Name the Monkey!


2nd Prize Winner: A snazzy Light Reading T-shirt goes to:



Dr.NewWave



The good doctor provided the popular favorite around here: "Furious George." Unfortunately, it's been the popular favorite of too many people already, including a band, a game, and a Frisbee team.


3rd Prize Wiener: A tasteful Light Reading T-shirt goes to:



Rhubarb_Rhubarb_Rhubarb and l2d



We have a tie – which means Rhubarb3 will have to share the shirt with Bigfoot, who no doubt takes an XXL. But their "Fubar," encapsulating, as it does, the current state of the industry, was another near-winner (this was also a choice of crapshooter).


4th Prize Winner: A collectible Light Reading T-shirt (slightly soiled) goes to:



cprotopapas



"Screaming Jay Chambers" didn't have a chance in Hell, really, but it is funny and reflects a salutary respect for the roots of Rock'n'Roll.


5th Prize Winner: The highly coveted contents of the Light Reading office change jar go to:



Joeboo



Joeboo submitted several, including the perfectly acceptable, if unexciting, "Bubbles" and "Arthur Anderson," but he/she/it cops the cash simply for having the most monkey-like moniker.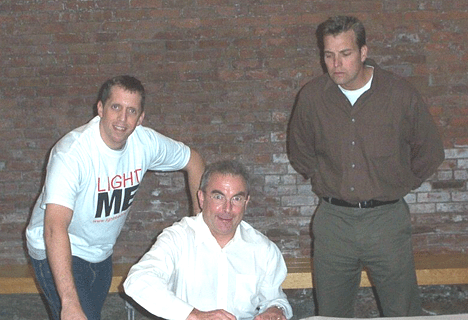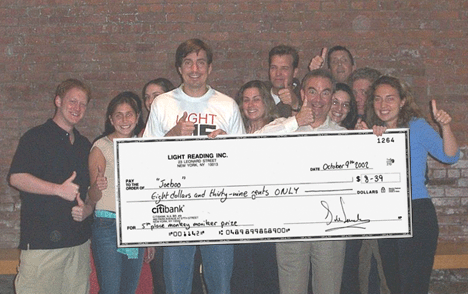 * * * * *



And now for our next bit of Monkey Bidness: Name That Larry!

OK. We've got the Larry. And we'll let you in on a leeedle secret: He's named after a famous Larry. Correctly identify which one from the list of luminaries below, and five (5) more of you will win treasured Light Reading 100% cotton, short-sleeved, collarless pullovers! And we promise that this time we'll probably abide by majority rule.

Here are your choices:


Aiello Jr, Corning Cable CEO
Babbio, Verizon Telecom Prez
Bird, Very Tall Jock
Blair, Ex-Redback Marketing VP
Carter, Cisco CFO
Coldren PhD, Agility Founder
Dalton PhD, Polymer Wiz
Ferlinghetti, Beat Poet
Fine, The Forgotten Stooge
Flynt, Crippled Pornographer
Hagman, Jeannie's Master
King, Inexplicable TV star
Kittelberger, Honeywell CIO
Lang, Cisco Wireless VP
Livermore, Laboratory
Loper, Ex-ONI Marketing VP
Mondello, Beaver's Buddy
Roberts, Caspian Founder
Storch, Comic Genius
Tate, Darren's Boss
Wilcox, The Other CHIPS Guy
___________, Other
* * * * *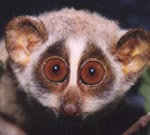 — The Staff, Light Reading, Division of Primate Nomenclature www.lightreading.com
---
Folderol (rev 10.10)
By submitting an application to this Contest, sponsored by Light Reading Inc., the participant acknowledges and agrees to all of the Contest rules, mentioned and unmentioned. Entry requires a valid, non-salacious message-board handle. Entrants must be at least six (6) years old and able to spell "larry." The sponsor assumes no responsibility or liability for damages, losses, or injuries (up to and including ebola outbreak, loss of eye, and/or radiation sickness), resulting from use of or acceptance of any prize. The odds of winning depend on dumb luck and the state of sobriety of our judges. If they ban smoking in New York City bars, I'm going to go ballistic. Most federal, provincial/state, and local laws apply. Receipt of all prizes shall be conditioned upon compliance with any applicable federal, provincial/state, and local laws, particularly those governing public lewdness. The sponsor reserves the right, in its sole and absolute discretion, to interpret compliance with the letter and intent of these rules and to disqualify any applicant deemed to have violated these rules. I mean, really, people come here for the clean mountain air? Employees of Light Reading Inc. and their immediate family members, friends (in the unlikely event they should have any), and monkeys are not eligible. Nor are people named Larry. Contest rules and guidelines are subject to arbitrary update and modification at any time and for any inscrutable reason. Light Reading Inc.'s decisions in all respects relative to the Contest are final. By entering, you agree to be bound by these Official Rules. By participating and winning a prize, the winner releases Light Reading Inc. and its employees and sponsors from any and all liability with respect to said prize. You got a problem with secondhand smoke? Move to the Yukon. Except where prohibited by the Office of Homeland Security, by accepting a prize, the winner consents to celebrate in moderation and within the scope of community standards obtaining in his, her, or its place of residence. Jeeez!

Disclosure: Light Reading Inc. ["The Company"] intends to claim its $8.39 "change jar" prize as a tax deductible, charitable donation, so it won't cost us a penny. The Company would like to express its gratitude to Gary Winnick for giving us this idea.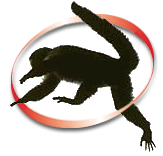 (Click the monkey... Go ahead!)