Here's a message for startups hoping to make money on wireless applications: Save those pennies.

The wireless industry has stacked the deck against applications startups, making it tough to reach a widespread audience, according to some panelists at yesterday's Executive Summit on Broadband Media, presented by Ericsson AB (Nasdaq: ERIC). (See Ericsson in the Valley.)

The panel was titled, "Mobility + Broadband: How Can Silicon Valley Make Money?" and the immediate answer was, "Don't ask."

The problem is that most mobile environments are closed, meaning a would-be applications developer has to create multiple versions of code to satisfy the multitude of handset types out there.

"For two guys in a garage to make five different code applications, it's very hard," said Mark Kvamme, a partner with Sequoia Capital .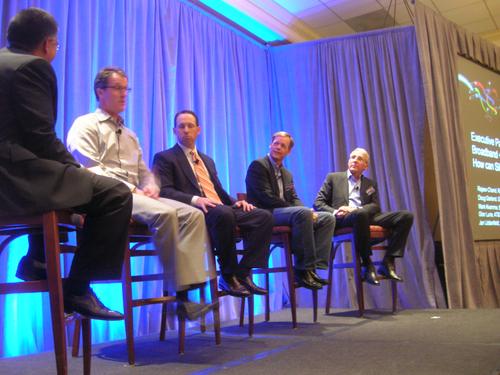 The iPhone provides a bit of hope, since its immense popularity makes it a good target for developers. But all applications have to be approved by Apple Inc. (Nasdaq: AAPL). "You go into the black hole of the App Store and you don't know if you're going to get approved or not," Kvamme said.

Kvamme admitted that, while Sequoia has bets in wireless applications -- AdMob Inc. and Loopt Inc. among them -- the company still doesn't have a firm grasp on how that sector is going to make its money.

Google (Nasdaq: GOOG) predictably preached the benefits of openness, which is the crux of that company's Android efforts. (See Google: Android's Not Evil.)

The dream is to have any application run on any device and over any network. That frees up developers from worrying about the "how" of porting to different devices and "really allows developers to focus on the 'what' of engaging users," said Doug Garland, Google's vice president of product management.

Asked if Google is managing to make money off wireless, Garland said only, "We're very pleased with the amount of money we're making today."

Demand does exist for wireless applications -- especially for games, in the iPhone's case, said Glen Lurie, president of the AT&T Inc. (NYSE: T) Emerging Devices division. "We in this industry are starting to see some signs of what's going to be hot," he said.

So, the consumer interest at least exists. (The panel focused mainly on the consumer world rather than enterprise wireless usage.) But even if it's possible to build up user volume, it's still not clear what kind of business model will work for a wireless application.

Advertising won't save the day, Kvamme said, because mobile-device screens are too small. That means a smaller inventory of possible ad spaces, which curtails the amount of ad revenue that's possible. "It's just really hard to build a big company 99 cents at a time," he said.

Most panelists agreed that some kind of subscription model is likely to kick in, where the winning applications are strong enough to compel users to pay small monthly fees.

— Craig Matsumoto, West Coast Editor, Light Reading