11:00 AM -- A sub-US$400 price point would be the feature most likely to convince users to buy a Microsoft Corp. (Nasdaq: MSFT) Surface tablet, according to the early findings of a Light Reading reader poll. (See Poll: Microsoft's Surface-Level Tablet Specs.)

That price point alone would be enough to convince 34 percent of the near 150 early respondents to the poll, while only 9 percent would be swayed by built-in LTE connectivity, which the product does not have, at least initially. (See Microsoft Surface: Where's the 4G Wireless?)

Advanced enterprise functionality was the key single feature for 17 percent of respondents.

But for 26 percent of our voting readers, all three features would be required to get them to buy a Surface, which has been unveiled without pricing and availability details as yet.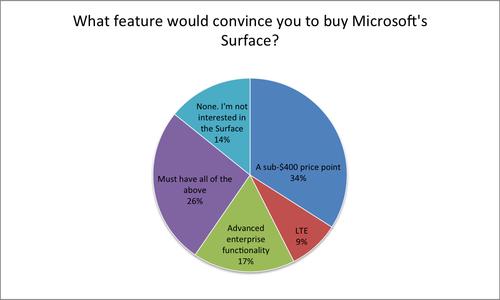 None of the stated features were enough for 14 percent of respondents, who are not in the least bit interested in the Surface tablet, which will face a tough time against its highly popular main rival, Apple Inc. (Nasdaq: AAPL)'s iPad. (See Apple Earns $11.6B on Q2 iSales.)

The early conclusion, then, is that price will likely be the most important single factor in Surface purchasing decisions, though it's clear that some people would like to see LTE connectivity added to the tablet's in-built Wi-Fi capabilities.

The majority of tablets available today rely on Wi-Fi alone for data connections and maybe that's sufficient for most people. Clearly, though, the wireless operators that are investing billions in their 4G networks are hoping this will change.

If you haven't taken the poll yet, cast your vote here.

— Sarah Reedy, Senior Reporter, Light Reading Mobile