Microsoft Corp. (Nasdaq: MSFT) looks set to become the market leader in the PDA operating system market with its Pocket PC product, surpassing Palm Inc. (Nasdaq: PALM) in 2003 -- yet the software giant has much to prove if it is to become a major force in the mobile sector overall, finds the latest Wireless Oracle report, which is available now.

The Redmond-based firm has been making significant progress in the mobile industry recently, as the result of a clearly formulated strategy that is underpinned by strong partnerships with service providers, components companies, and device manufacturers, writes Gabriel Brown, the author of "Microsoft Mobility Tackles Hard Issues."

The latest high-profile results of these relationships have been the launch of a phone based on the software giant's Smartphone 2002 operating system, a suite of software for mobile workers in the U.S., and a partnership with Samsung Corp. (see Orange Uncovers Its SPV, Microsoft's Mobile Maneuvers, and Samsung to Use MS Smartphone).

In addition, market research companies have noted increasing market share for Microsoft in terms of the number of products shipped with its operating systems on board. For instance, Canalys.com Ltd. believes that the number of what it calls "mobile devices" (feature phones, smartphones, and handhelds, including wireless handhelds) using an operating system based on the Microsoft CE kernel is almost equal to the number carrying the Palm OS, though Symbian Ltd. is still the clear market leader here (see Phone, Camera, Action!). In the global PDA market, eTForecasts predicts that sales of Windows CE-based products will outstrip those of Palm OS-based products sometime in 2003.

As more products come to market in partnership with strong players, Microsoft should reap the benefits in terms of revenues.

The growth of this business within Bill Gates's empire can now be tracked quarterly as the software firm announces its periodic financial results, notes Brown. "In an effort to better demonstrate to company outsiders where revenue growth is coming from, Microsoft has recently reorganized its financial reporting. The firm now reports revenue for seven core businesses," he writes. The smallest core business is the "CE Mobility group, which includes Smartphone, Pocket PC, and other CE-embedded system sales. Products from the new CE Mobility group would have accounted for only $69 million of revenue in FY 2002, making mobile devices the firm's least important line of business," in financial terms, according to Brown.

The publication of the first-ever quarterly (1Q03) numbers for the CE Mobility group on October 17, 2002, certainly showed that revenues are small compared with the company's overall revenue of $7.75 billion in that quarter (see Microsoft Posts Record Revenue).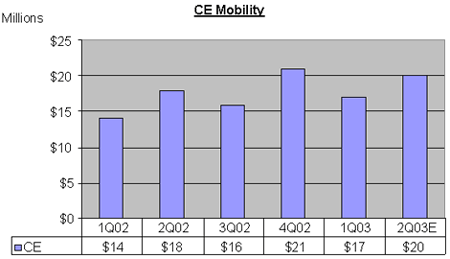 Such figures do not tell the whole story, though. Brown says his report shows "that the CE Mobility group is of greater importance to Microsoft strategically than it is financially. Microsoft's overall mobility strategy is very much linked to its success in the enterprise, with its Windows OS, desktop applications, servers, and .Net programming architecture, and clearly there are a number of ways in which Microsoft can knit these products together to offer compelling value to the enterprise." The link between the look and feel of the ubiquitous desktop OS and that on mobile devices will be key to Microsoft's hold over enterprise users and, of course, the influence that has when it comes to the capex plans of business organizations.

So worried are other companies about Microsoft's move into the wireless sector that rivals have resorted to starting spurious rumors, including one suggesting that the CE Mobility business does not have the full support of Microsoft honcho supremo Bill Gates. This particular suggestion, which may or may not have been started by a Finnish company's CEO during a presentation to executives from a well-known financial newspaper, was one that Gates felt obliged to refute personally.

But despite Microsoft's growing presence and influence, it's not all clear sailing for Gates & Co. In his report, Brown notes a number of factors that could derail the company's ambitions. While "Microsoft has a strong and compelling mobility strategy that looks certain to be a success," writes Brown, "concerns that [the company] is seeking to dominate the smart device business in the same way that it has dominated the PC business are legitimate but overdone. There are several areas in which Microsoft's strategy is weak or nonexistent." Just a few of the downsides identified by Brown are: its key product, the Smartphone OS, is unproven in the commercial market; it has no discernible consumer-oriented strategy; and the company "has been late to address the CDMA2000 1xRTT market and will lag behind vendors with radio experience in the early stages of 3G."

And there are plenty more issues for Bill and his mates to address, so don't despair about being forced to choose from a range of Microsoft-based mobile devices in the future. Well, don't worry about it yet, anyway.

— Ray Le Maistre, European Editor, Unstrung www.unstrung.com

The full report, "Microsoft Mobility Tackles Hard Issues," costs $400. An annual subscription to the Wireless Oracle is ordinarily $1,250, but is currently available at the special introductory price of $899. For more information, including subscription information and research examples, visit the Wireless Oracle at www.wireless-oracle.com. Editor's Note: Light Reading is not affiliated with Oracle Corporation.