OSS vendor MetaSolv Software Inc. (Nasdaq: MSLV) just had a week to remember. The company announced its best quarterly financials in years and announced a reseller deal with Lucent Technologies Inc. (NYSE: LU) -- a partnership worth having in the world of telecom software (see MetaSolv Posts Q2 and Lucent Resells MetaSolv OSS).

The company's second-quarter revenues of $23.4 million were 18 percent higher than a year earlier and 9 percent higher on a sequential basis (see MetaSolv Improves in Q1). They were also higher than analysts' expectations of $22 million. The quarter's loss of just $700,000 was also a considerable improvement, and on a pro forma basis the company actually recorded net income of $300,000. CEO Curtis Holmes told analysts that this was the first pro forma profit for the company in three years.

Holmes also noted that the quarter's revenues were the highest since the fourth quarter of 2002, and that the outlook for the third quarter is for revenues of between $22 million and $24 million. The news sent the vendor's share price up $0.17 to $2.96, a rise of more than 6 percent. That capped a rise of more than 50 percent in the past three months (see the chart below), and took the stock back to its year-ago level, valuing the company at $123 million.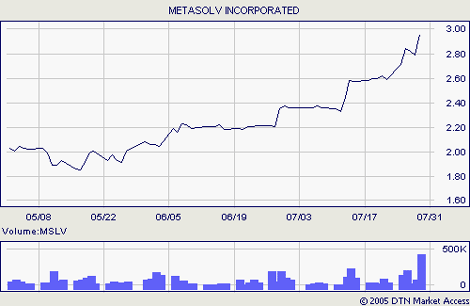 What's caused the turnaround? Holmes says the company's strategy of focusing on the OSS needs of carriers offering mobile and IP services, such as VOIP, IPTV, and IP VPNs, is paying off (see MetaSolv Launches VOIP OSS, Wins Deal). In addition, the company has been cutting costs and continues to do so.

The firm's product development and partnerships have resulted in a number of major contract awards. Holmes points to deals struck at Cingular Wireless LLC, which is using MetaSolv's activation software for its voice and data services; Singapore Telecommunications Ltd. (SingTel) (OTC: SGTJY), where Holmes said it beat Syndesis Ltd. to replace incumbent Cplane; and Clearwire LLC. He also says BCE Inc. (Bell Canada) (NYSE/Toronto: BCE) is using MetaSolv's software to manage its VOIP and IPTV services, while pan-European cable operator United Pan-Europe Communications NV (UPC) (Nasdaq: UPCOY) is doing the same in Europe (see MetaSolv Claims IPTV OSS Success and Bell Canada Picks MetaSolv).

And Holmes notes that the firm's recently announced partnership with Indian integrator Tata Consultancy Services has resulted in a contract at national operator Bharat Sanchar Nigam Ltd. (BSNL), while its relationship with IBM Corp. (NYSE: IBM) has led to a deal at German carrier Arcor AG & Co. KG (see MetaSolv Ties With Tata, Wins at Oni).

Now the company has a global partnership with Lucent, covering MetaSolv's provisioning, order management, and inventory management systems, to build on, too. Holmes says the two companies have been working together for about six months and that the duo has developed "a strong pipeline" of opportunities, but it's too early to say whether any deals would close in the current quarter.

Marketing VP David Sharpley adds that Lucent brings greater exposure in Asia/Pacific -- where MetaSolv generates just 4 percent of its revenues at present -- as well as emerging markets such as Eastern Europe, Russia, and the Middle East.

The partnership brings together two of the most widely recognized suppliers of OSS in the world. MetaSolv scored very well in Heavy Reading's recent 2005 OSS Market Perception Study, ranking fourth overall, while Lucent ranked seventh (see MetaSolv Tops OSS Survey Category and Report: OSS Minnows Have Muscle).

"Lucent is putting much greater emphasis on its service assurance portfolio," says OSS Observer analyst Patrick Kelly. "It's a massive organization and should bring MetaSolv new opportunities from its large Tier 1 and Tier 2 carrier base."

Kelly also notes that, while Metasolv's business is improving, "other service fulfillment suppliers, such as Syndesis, Cramer Systems, and Telcordia's Granite division, are also experiencing strong demand."

While all that's going on, MetaSolv says it won't take its eye off costs. CFO Glenn Etherington says the company will "eliminate several management positions in the current quarter," which will result in a one-off charge of about $1 million. Holmes adds that, in a bid to further reduce operating costs, he is "looking to see if we have too many layers of management."

The vendor also needs to address its slipping gross margins, which came in at 57 percent in the second quarter, down from 67 percent a year earlier, due to "lower than anticipated professional services margins," says Etherington. "There's room for improvement there." The firm's stock continued its upwards trajectory this morning, rising 3 cents to $2.99.

— Ray Le Maistre, International News Editor, Light Reading


---
For more on this topic, check out: