MCI (Nasdaq: MCIT) filed revised information with the U.S. District Court, Southern District of New York last night, including details of a proposed bank settlement and new, lower guidance for the next three years (see MCI Cuts Guidance Slightly).

The news came hours after MCI announced the court had approved a revised settlement plan for the civil case the Securities and Exchange Commission (SEC) brought against WorldCom last year.

The latest additions to the company's restructuring plans must still be approved by the court.

The proposed bank settlement calls for a group of banks to get reimbursed with $75 million in senior unsecured notes when MCI gets out of bankruptcy. In exchange, the banks will drop "with prejudice" the cases they've brought against WorldCom, in which some claimed the carrier borrowed money "fraudulently" under the old regime. The banks also claimed damages in some instances.

Yesterday's filing also reduces MCI's previous revenue guidance for 2003 through 2005, the crucial first years of its reemergence. MCI's now planning for $24.5 billion in sales this year, compared with its previous projection of $24.7 billion; $24.6 billion for 2004, instead of $25.8 billion; and $25 billion for 2005, instead of $27.8 billion.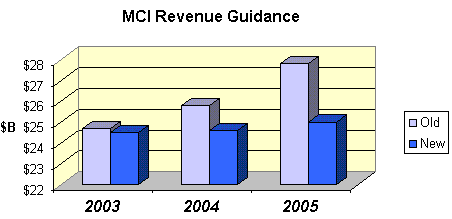 The depressing thing about these figures is the widening gap between old and new forecasts as time marches on. The difference grows from a mere $200 million shortfall this year to $2.8 billion in sales for 2005.

What gives? MCI's press statement says: "The revenue reductions are primarily in the company's consumer and small business segments, reflecting intense pricing competition fueled by new entries of unlimited bundles, aggressive new DSL offerings and rapid adoption of national Do Not Call legislation."

One analyst translates: "In my estimation, their original guidance was far too aggressive... and they're being impacted by the Bells entering consumer long distance," says F. Drake Johnstone of Davenport & Co. LLC.

MCI's also getting pinched by the Bells offering bundled voice and data services inside and increasingly outside their basic regions, Johnstone says. Rival IXCs AT&T Corp. (NYSE: T) and Sprint Corp. (NYSE: FON) are also feeling the pinch, despite attempts to meet the RBOCs head-on (see US Incumbents Go the Distance).

MCI's guidance cut might prompt some to think MCI won't be cutting its prices to compete once it reenters the market, something many fear would launch an all-out price war. "I would not hold out that hope," Johnstone says.

— Mary Jander, Senior Editor, Light Reading