The latest round of market research is showing just how tough it's become to gauge the depth and duration of the present downturn in telecom carrier spending.

Over the past two weeks, leading firms Aberdeen Group Inc., Infonetics Research Inc., and RHK Inc. have announced new figures that give differing and even contradictory takes on the state of the market.

On one hand, RHK has just revised its totals for the North American optical transport market (see RHK Revises Forecast), which comprises a bit more than half of worldwide revenues for the segment, the way RHK defines it.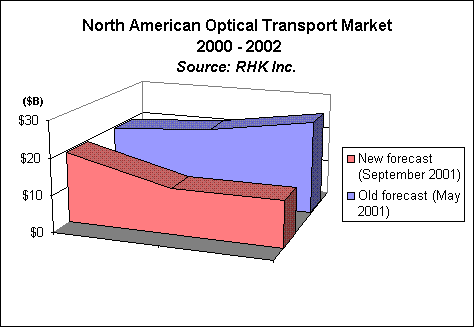 The firm says total revenues from North American sales of DWDM gear, Sonet equipment, and digital crossconnects now are expected to be roughly $12.5 billion, down 36 percent from $19.6 billion in 2000 and nearly 68 percent less than the $21.5 billion in 2001 sales the firm estimated in May of this year (see Transport Gear Sales Seen Slowing).

What's more, revenues for 2002 are expected to be "flat" relative to 2001, in contrast to the firm's May forecast between $21 billion and $26 billion.

"We came a long way off our original forecast," admits Seth Newberry, vice president at RHK responsible for the new report. But he says carriers have taken some unexpected, unprecedented turns very quickly this year. They're meeting demand by redeploying existing gear, for example, or leasing capacity from other carriers -- including those that have failed. Their unwillingness to start new buildouts has forced vendors to reduce pricing, further eroding sales figures.

RHK plans to update its global optical transport figures within the next two months. And subscribers to the firm's research services don't have to pay extra for the revised reports.

On the other side of the market research spectrum are Aberdeen Group and Infonetics, which both have recently published optimistic takes on the optical networking market.

In its latest report, Aberdeen says worldwide capital spending on DWDM, optical switching, and Sonet/SDH is expected to exceed $56 billion in 2001 (see Report: Market Migrating). These figures include $7.47 billion in so-called intelligent optical networking gear and $49.2 billion in Sonet/SDH equipment.

According to Aberdeen analyst Andrew McCormick, intelligent optical networking (ION) equipment is defined as DWDM and optical switching gear capable of manipulating optical carrier signals for the purpose of optimizing network transport, switching, and management. And it's continuing to sell well, McCormick says, despite the downturn.

Worldwide revenues from ION gear will grow dramatically, Aberdeen says, from $7.47 billion in 2001 to $11.9 billion in 2002 and $23.4 billion in 2003. Meanwhile, Sonet/SDH gear will start declining, from $49.2 billion in 2001 to $45.6 billion in 2002 to $43.8 billion in 2003.

Infonetics has also embraced the intelligent optical networking taxonomy. But its latest forecast says intelligent kit will be worth $10.3 billion in 2001 (see Next-Gen Optical: Bucking the Slump).

On the face of it, all this research adds up to a confused jumble. Not only do total sales figures differ sharply from report to report, but the new taxonomies presented by the likes of Aberdeen and Infonetics change the landscape of key products and players dramatically.

According to Aberdeen, for instance, Nortel Networks Corp. (NYSE/Toronto: NT), Lucent Technologies Inc. (NYSE: LU), and Fujitsu Ltd. (KLS: FUJI.KL) -- in that order -- lead the "old" telecom market, including Sonet/SDH and DWDM gear requiring proprietary lasers and receivers. But when the market is viewed according to sales of new ION gear, Ciena Corp. (Nasdaq: CIEN) ranks first, followed by Lucent Technologies Inc. (NYSE: LU) and Nortel.

For their part, researchers admit their job's gotten tougher with the downturn. "Carriers are changing their capex plans on a quarterly basis," says Aberdeen's McCormick. They're also increasingly reluctant to discuss their plans, he says, and they have clamped down their guard on information about the types of equipment they plan to buy.

There are other reasons for carrier caginess. "It's always been difficult, but this year, fair disclosure has made it more troublesome," says RHK's Newberry. He says new regulatory strictures have caused carriers to hesitate in offering researchers any information that may not have been given to general investors. That makes it tough for firms to get the basic data they need for accurate forecasts.

Researchers also concede that evolving technologies and changes in networking equipment are making it hard to follow the traditional breakdowns of telecom gear. Infonetics founder Michael Howard, for instance, admits he's had to revise his year-2000 baseline totals on intelligent optical gear since starting to track it last quarter.

"We've added in revenues from some products we left out in the first go-around," Howard says. Since June, the firm has changed its 2000 total for intelligent optical network hardware from $5.3 billion to $6.77 billion.

Readers who want to "sound off" about market research are invited to take out latest poll at Market Research: What's it worth?.

— Mary Jander, Senior Editor, Light Reading
http://www.lightreading.com