Is Marconi Corp. plc (OTC: MONIY) (Nasdaq: MRCIY; London: MONI) a widely recognized player in the telecom equipment market? Well, that depends on who you are asking.

The issue came up recently when Heavy Reading, Light Reading's market research division, published its 2003 Telecom Equipment Market Perception Study a couple of weeks ago. Marconi protested with howls of indignation.

Marconi did so poorly in the survey that it was cited as one of a handful of companies that "may have passed a tipping point from which it will be impossible to recover." (See Heavy Reading Surveys Telecom Vendors.)

Marconi says the report casts it in an unfair light because, among other things, the survey reflects the views of a lot more North American carriers than Western European ones. Marconi says that nowadays, its main focus is Western Europe, and that its products are much better known (and liked) by carriers in that region.

Upon closer investigation, the Heavy Reading survey fails to back up this assertion. A greater proportion of North American carriers' employees recognize Marconi as a supplier in some of Marconi's key product categories. This goes for DSLAMs, fiber access equipment, multiservice switches, and softswitches.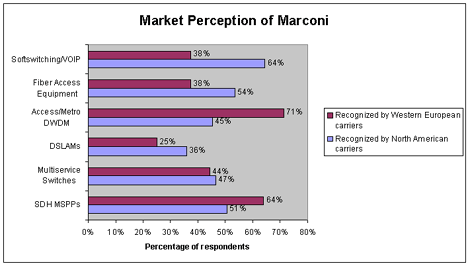 A slightly higher proportion of European carriers recognize Marconi as a supplier of SDH multiservice provisioning platforms -- hardly surprising, since North American carriers don't use SDH equipment.

Ironically, the one product category where Marconi is much more widely recognized by Western European carriers is Access/Metro DWDM -- the very market that Marconi CEO Mike Parton, in an interview with Light Reading earlier this year, dismissed as too small to be of much significance (see Mike Parton, Marconi).

For the record, 770 carrier employees responded to the survey, and 95 of them were in Western Europe. By normal market research standards, 95 responses for the whole survey would be considered outstanding.

It's worth comparing Marconi's ratings in the survey with those of another major European vendor focusing on a similar set of products, Alcatel SA (NYSE: ALA; Paris: CGEP:PA).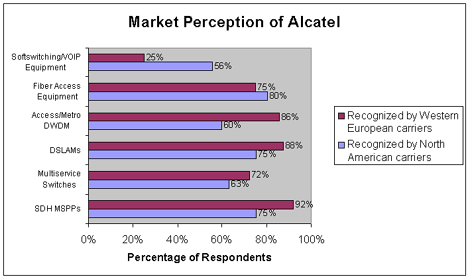 In this case, Alcatel is more widely recognized by Western European carriers, except in a couple of product categories. One of them, fiber access equipment, is unsurprising because Alcatel is considered a front runner in the race to win a monster RBOC RFP (see UBS: Alcatel Could Win PON RFP). The other is softswitching/VOIP equipment, a market that is still evolving.

— Peter Heywood, Founding Editor, Light Reading

To learn more about the report, including selected excerpts, please go here. The Heavy Reading 2003 Telecom Equipment Market Perception Study is priced at $4,950, and includes access to an online database allowing further analysis of all survey results according to search criteria such as geography, customer type, and respondent job title.

The product categories covered in the survey are:
Sonet and SDH Multiservice Provisioning Platforms, Metro Ethernet Equipment (including a separate study of Packet Ring Technology), Ethernet Access Equipment, 10-Gbit/s Ethernet Switches, Core Routers, Multiservice Switches, Edge Routers, Broadband Remote Access Servers, DSL Access Multiplexers, Equipment for Cable/MSO Networks, Third-Generation Digital Loop Carriers, Access/Metro DWDM Systems, Long-Haul DWDM Systems (including separate studies for terrestrial and submarine systems), Optical Switches, Softswitching/VOIP Equipment, IP Service Controllers (including separate studies for content switches/load balancers, traffic management devices, session controllers, and route optimization devices), Test Equipment, Fiber Access Equipment, Free-Space Optics, Broadband Home Gateways, Integrated Access Devices, and Video-Over-IP Equipment.