The optical networking equipment market continues to decline, but Lucent Technologies Inc. (NYSE: LU) has come back as the top optical vendor, according to a recent report from the Dell'Oro Group, a market research company. Dell'Oro's report measured optical equipment revenues from shipments by vendors for the second calendar quarter of 2001.

The entire optical equipment market -- including long-haul DWDM, metropolitan DWDM, and Sonet/SDH gear -- declined in the second quarter to $4 billion from $5.9 billion in the year ago. Lucent led the pack with $847 million in second-quarter optical equipment revenues, giving it 21 percent of the overall market, Dell'Oro says.

The next nearest competitor to Lucent was Nortel Networks Corp. (NYSE/Toronto: NT), which finished the quarter with $635 million in optical equipment revenues, or about 16 percent of the overall market.

Both vendors' equipment revenues were down significantly from their year-ago totals, but Lucent gained market share during the period while Nortel gave up lots of it. Lucent held 15 percent of the market in the year-ago quarter with $892 million in optical equipment revenues. Nortel held 42 percent of the market in the year-ago period with $2.5 billion in optical equipment revenues.

"We're definitely endorsing [Dell'Oro's report] and we're definitely behind the numbers," says Frank Briamonte, a Lucent spokesman. (Now, there's a shocker!) Briamonte says Lucent's market share gain came from its strong overall portfolio of products, its renewed focus on large service providers, and its "nice rebound" in the OC192 market.

"We're very confident about where we're at -- we're still a strong leader in this space," says David Chamberlin, a Nortel spokesman. "We understand that there are going to be fluctuations in buying patterns right now, based on the economic slowdown, and that's reflected in the numbers. This could change based on a single contract."

Off the record, some Wall Street analysts question the report's value because it is basically reporting things that have already been reflected in corporate earnings and sagging stock prices. But there is merit, they say, in its product category breakdowns, which companies such as Lucent don't generally provide.

One breakdown showed that Lucent held 21.8 percent of the Sonet/SDH equipment market in the second quarter, versus Nortel's 14.9 percent share and Cisco Systems Inc.'s (Nasdaq: CSCO) 3.8 percent share. In that category, Nortel's sales slipped 50 percent from the first quarter to the second. Cisco's sales dropped 30 percent for the same period, the Dell'Oro data shows.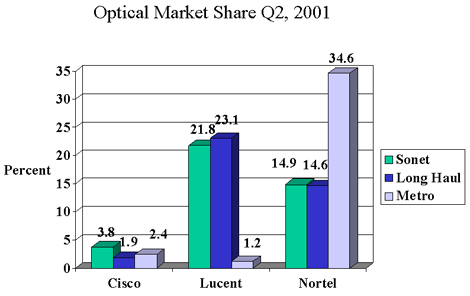 Another interesting breakdown shows that networking equipment giant Cisco is quite the laggard in the service provider market. In the optical equipment race, it placed 7th in Sonet gear, 10th in long-haul DWDM gear, and 5th in metro DWDM gear during the second quarter of 2001, according to Dell'Oro's data. That puts Cisco behind Sorrento Networks Corp. (Nasdaq: FIBR) in the metro DWDM market. Sorrento has 6.5 percent, more than twice Cisco's 2.4 percent.

Morgan Stanley Dean Witter & Co. analyst David Jackson says he thinks Nortel's troubles stem from its close ties to emerging carriers, the very ones that are leapfrogging each other to bankruptcy court now that the economy has slowed down.

Nortel, however, says this discrepancy is more a matter of changing spending patterns that fluctuate with different network demands. "Networks that buy optical equipment from Nortel are only now beginning to reach capacity, but those that buy from our competitors are still demanding products in the same quarter," says Chamberlin. "We have networks that are just now beginning to look at their next wave of purchases."

Dell'Oro says it gets its data from equipment vendors and subtracts any returned equipment that counts against a vendor's revenues. It also says it checks its numbers with service providers and SEC filings to ensure accuracy.

- Phil Harvey, Senior Editor, Light Reading
http://www.lightreading.com