Lucent Terminates the LambdaRouter

Comment (56)
Another piece of optical innovation has just been consigned to the dustbin of history. Today,
Lucent Technologies Inc.
(NYSE: LU) confirmed that it would discontinue development of the LambdaRouter -- an all-optical switch based on tiny tilting mirrors.
With the telecom industry and, particularly, the core telecom market in a world of hurt, the decision is not surprising. Still, it must come as a bit of a shock within the company. Lucent executives had recently been talking up the product, and the LambdaRouter became part of a new program to make Lucent act more like a startup (see
Lucent Tries On That Startup Look
).
But no more -- the LambdaRouter is gone.
"We told employees in that group on August 12 that we would end development," says Lucent spokesperson Jenn McManus. "It's basically a market issue. It's a good product, it's viable, but the market just isn't there now." Lucent needs to focus its resources on products that will yield a more immediate return on investment, she says.
As a result of the decision, some Lucent staff will be laid off, although McManus isn't able to say how many. "We are looking for ways to minimize the impact, but yes, there will be layoffs."
In this day and age, the decision isn't a big surprise. Lucent has only announced two customers for the LambdaRouter --
Global Crossing Holdings Ltd.
, which has troubles of its own, and
Japan Telecom
-- and each customer is only thought to have bought a small number of switches (see
Lucent's LambdaRouter Turns Japanese
).
France Telecom SA
was also said to be testing the switch, but no purchase order had been announced. Even though each switch is said to be priced at around a million dollars, the contribution to Lucent's revenues would be minimal.
Lucent's in good company. Earlier this year
Nortel Networks Corp.
(NYSE/Toronto: NT), ended development of its Optera Connect PX, a monster all-optical crossconnect based on the technology it acquired from Xros (see
Nortel Shuts Optical Switch Effort
). Its reasons were the same as Lucent's -- carriers just aren't interested in optical switches anymore (see
No Riches From Optical Switches
).
A few competitors remain in the market for
Optical Crossconnects
, such as startup
Calient Networks Inc.
Calient claims its all-optical switches have been deployed with Japan Telecom, which, as noted, was also a customer for the LambdaRouter (see
Calient Captures a Contract
). If true, Calient is in a prime position to pick up any future orders that Lucent can no longer fulfill. Indeed, Lucent's McManus says that the company is in discussions with its customers on how to "transition them."
Corvis Corp.
(Nasdaq: CORV) and
Ciena Corp.
(Nasdaq: CIEN), which also make all-optical switches, may not be able to fill Lucent's shoes so easily. Their products switch smaller numbers of wavelengths, being designed around liquid crystal technology from
Corning Inc.
(NYSE: GLW), rather than MEMS (micro-electro-mechanical system) (see
Corvis Upgrades Optical Switch
).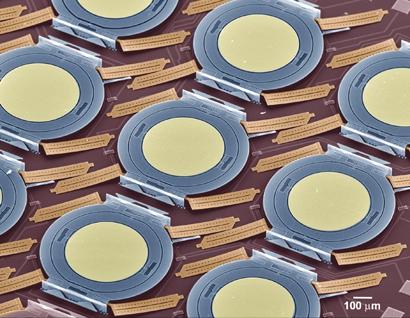 Signs suggest, however, that Lucent loves its technology too much to abandon it altogether. The tiny tilting mirrors, whose images were omnipresent in 1999, will return to the lab -- which is where some say they belonged all along. "We are still committed to the optical switch concept, and will continue to work on the technology at
Bell Labs
," says McManus.
— Pauline Rigby, Senior Editor,
Light Reading
http://www.lightreading.com
EDUCATIONAL RESOURCES

PARTNER PERSPECTIVES
- content from our sponsors
GUEST PERSPECTIVES
- curated contributions