Lucent Technologies Inc. (NYSE: LU) took another step toward closing the books on its mountain of shareowner litigation last night.

The company announced that a U.S. District Court judge in Newark, N.J., gave preliminary approval of Lucent's plan to pay out a total of about $568 million to settle 54 separate lawsuits brought against the company and its officers after the telecom downturn savaged the company's value (see Court Approves Lucent Settlement).

Lucent announced the plan to settle the claims on March 27, without admitting fault (see Lucent Pays Big to Settle Claims). The company said it would pay out about $420 million to various litigants, including a range of trust and pension funds, to end the multiple claims. Of that amount, about $315 will consist of cash, stock, or both, and about $100 million will come from warrants issued by Lucent for the purchase of common stock.

Lucent originally said it anticipated a charge of $415 million for the settlement. That figure has been adjusted in subsequent quarterly reports to reflect the changing value of Lucent's warrants. An update will accompany Lucent's next earnings report, set for about the third week in October.

Lucent still awaits the outcome of a settlement fairness hearing set for December 12, 2003, in which the court will hear objections to the proposed settlement and rule on plans for the final payout.

At least one analyst thinks the settlement won't affect Lucent's earnings. "They've already taken a hit for the estimated value," says Steven Levy of Lehman Brothers. He says that investors should be aware, though, that there could be some dilution of Lucent stock if the company's share price rises enough to encourage sale of the warrants when they're awarded.

Lucent's share price has been climbing steadily, despite setbacks.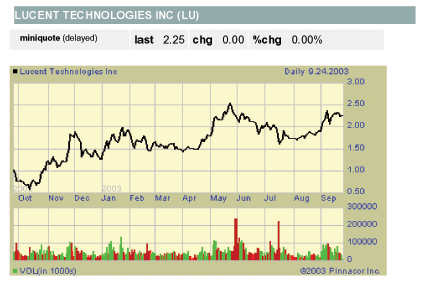 — Mary Jander, Senior Editor, Light Reading