Kicking off 2005, Light Reading has decided some changes are in order for the Light Reading Index. We're removing one company and adding four new ones, to give the Index a total of 40 companies.

The expansion of the LR Index will provide wider financial coverage of the telecommunications equipment and components supplier markets.

Advanced Fibre Communications Inc. (AFC) has left the Index, after being acquired by Tellabs Inc. (Nasdaq: TLAB; Frankfurt: BTLA).

Companies added to the Index are Adtran Inc. (Nasdaq: ADTN), Carrier Access Corp. (Nasdaq: CACS), ECI Telecom Ltd. (Nasdaq/NM: ECIL), and Tekelec Inc. (Nasdaq: TKLC).

Despite a broad stock market advance, the LR Index enjoyed a poor return of negative 30 percent in 2004, amid consolidation and rationalization in the equipment and components space.

The LR Index ended the year at 165, well down from its annual peak in very early January 2004. But that's still well off the all-time low of 66, reached in the dark days of 2002. In 2003, the LR Index was up a blistering 86 percent (see LR Index Up 86% in 2003).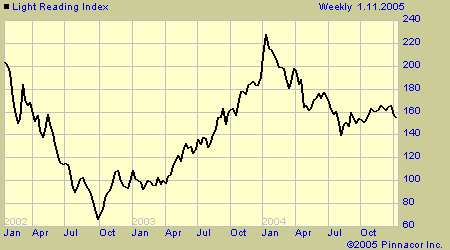 The Light Reading Index is a market-capitalization weighted index of 40 companies supplying equipment and components for the telecommunications industry. A market-cap weighted index means it's calculated based on the size of the company.

Currently, the top three companies in the index, according to market capitalization, are Cisco Systems Inc. (Nasdaq: CSCO) at $123 billion; Siemens AG (NYSE: SI; Frankfurt: SIE) at $72 billion; and Alcatel SA (NYSE: ALA; Paris: CGEP:PA) at $18.5 billion.

A full list of the 40 companies is here — R. Scott Raynovich, US Editor, Light Reading