Recent developments at Level 3 Communications Inc. (Nasdaq: LVLT) underscore the importance of choosing a scaleable business strategy for delivering hosted VOIP services.

Level 3 has discovered this the hard way. It's planning to discontinue its IP Centrex service, 3(Tone), because it's not flexible enough. And that's given an opportunity for at least two startup rivals, Volo Communications Inc. and Nuvio Corp., to try and grab some of Level 3's customers by offering alternative services (see Volo Offers (3)Tone Alternative and Nuvio Treads in Level 3's Tracks).

Level 3 spokesman Arthur Hodges says that 3(Tone) is a highly(integrated), fully(bundled), hosted(VOIP) service for small and medium-sized businesses where all the feature developments and updates are done by Level 3. And that's the problem.

"We have other wholesale VOIP platforms that are different, that are open, where component applications can be added. That componentized approach is the right one, as the wholesale customer then has the responsibility, and bears the cost, of product development, and they can make their own value proposition. The closed, integrated approach is not the right way."

Hodges reiterates that the service is being halted because of "Level 3's approach to the service," and not because of any issues with the main platform underpinning the service from IP Centrex system supplier Sylantro Systems Corp.

"It wasn't because Sylantro's system was inflexible -- it was all about our strategy," insists the Level 3 man, who declined to confirm that the 3(Tone) service had been subject to service disruptions. "Every network company experiences service disruptions. We are exiting the service because of the reasons I have already stated, not because of any service outages," says Hodges.

Naturally, Sylantro is in no rush to disagree. VP of marketing David Illing says Level 3's decision to kill off 3(Tone) is not related to any issues with his firm's technology, and adds that Level 3 is still using Sylantro technology successfully for its residential HomeTone VOIP service.

Hodges says the 3(Tone) service will be supported until June, giving the channel partners time to find alternative suppliers, and Level 3 has initiated a "transition assistance plan." He adds that phasing out the 3(Tone) service will "not have a material impact on our revenues", although he wouldn't give any figures.

Level 3's move to abandon the hosted VOIP market, and the negative signals that sends, come at the end of a troubled month for the carrier that has seen it slash its staffing levels, lose a board member, see its stock take a dive, and face further competition in the increasingly competitive VOIP services market.

PHEW!!

It has just laid off between 500 and 600 of its 5,000 staff, and will incur charges of $20 million to $25 million in its fourth quarter 2004 or the first quarter 2005.

The operator will announce its fourth-quarter results tomorrow, February 8, when analysts expect it to reveal a loss of 20 cents per share from revenues of $1 billion.

The operator also just lost a long-standing board member (see Level 3 Director Resigns).

The operator's share price has also been reflecting recent difficult times, hitting $2.65 on January 20, close to its 12-month low of $2.43. In fact, the stock has lost about 20 percent of its value since late October, and that figure was worse before the pickup in the price experienced late last week. On Friday afternoon the share price had risen to $3.07 (see chart below).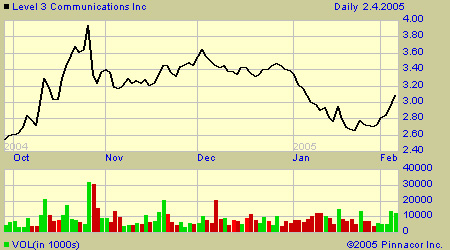 In addition, a new competitive threat in the VOIP market has just emerged in the form of XO Communications Inc. (OTC: XOXO), which is offering its flat-rate, unlimited local and long-distance IP telephony service directly to customers and through indirect channel partners using a hosted VOIP platform from BroadSoft Inc. and softswitches from Sonus Networks Inc. (Nasdaq: SONS). (See XO to Launch VOIP Services.)

— Ray Le Maistre, International News Editor, Light Reading