Lehman Brothers says things in telecom land are getting better and will continue to get better.

The bank's telecom equipment analyst, Steve Levy, raised his capital spending forecast, saying capex will increase 6 percent in 2004. Levy previously predicted a 5 percent capex jump and says the improving capital expenditure picture will help boost the revenues and profit margins of the equipment vendors.

"On the margin, things are getting better, and we've reached an important inflection point," Levy said today on a conference call with investors.

Lehman sees the turn in capital spending (the "inflection point") as a long-term trend, rather than a short blip. Levy says Wall Street has not entirely tuned into the potential for improvement in the industry. A Lehman Brothers survey of investment banks showed that only two of 14 banks, including Lehman Brothers, had a positive outlook on the sector.

The improvement will come, says Levy, because most equipment vendors have cut their cost structures so steeply that even moderate growth in revenue will result in significant improvement in profit margins.

"Revenues have just started to climb, and we have seen gross margins snapping back smartly."

Another issue ignored by many, according to Lehman Brothers, is that capital spending improvements are typically not reflected in the revenue of equipment providers until an average of 45 days after they are announced. The chart below shows how capital spending increases have preceded equipment revenues.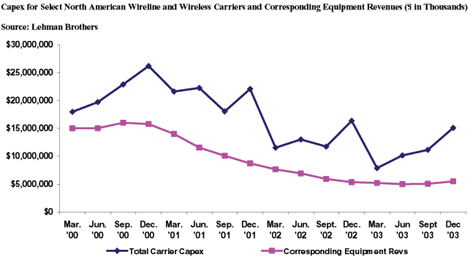 Following this logic, capital spending increases made in the last two months have yet to be recognized as revenue by the equipment providers. In addition, first calendar quarters are usually weak, meaning there could be more upside ahead in the second quarter.

What's this mean for the stocks of major equipment providers? Lehman sees those companies focused on major capital spending initiatives such as broadband access, wireless equipment, and edge routing, as the larger beneficiaries of the capital spending bump.

Levy's "favorite" investment targets include Advanced Fibre Communications Inc. (AFC) (Nasdaq: AFCI), Tekelec Inc. (Nasdaq: TKLC), and Lucent Technologies Inc. (NYSE: LU).

— R. Scott Raynovich, US Editor, Light Reading

Investment VIPs, including fund managers, technology executives, and analysts – among them, Steve Levy of Lehman Brothers – will be participating in the Light Reading Live symposium on Tuesday, April 13, 2004, at the Four Seasons Hotel in New York City – The Telecom Recovery: Opportunity Amid the Chaos. Check it out here.