Public-access 802.11 wireless LAN is a riddle – we've all used it in hotels, airports, or at conferences, and found it to be valuable. But in spite of this, the business of deploying and operating hotspots is fraught with cost and undermined by users that don't like paying much, if anything, for WiFi.

Personally, I've all but abandoned paid WiFi hotspots since 3G data cards (300 kbit/s downstream, 64 kbit/s upstream) arrived in London (see Review: Vodafone's 3G Data Card). Not only do I save a little money, but I also get to choose where I go to sip tea and access the Internet.

That doesn't mean I think the business of public-access 802.11 is a dead end, or is destined to remain a loss-leader for coffee (tea) outlets and burger joints. It's just that we need a way to make hotspot services more useful to more people.

Part of the answer, finds October's edition of Unstrung Insider, could lie in metro-area 802.11 technology, designed for use in hot-zones that cover public locations, such as airports and shopping malls, or even outdoor areas, such as campuses and downtown city blocks. The idea is to extend the coverage of today's isolated and widely distributed hotspots to provide more pervasive and broadly available services, with a better business proposition, than exists today.

Just for show, here's a graphic of a hot-zone network in Auckland, New Zealand [ed: see, this stuff is everywhere] operated by Reach Wireless using mesh network equipment from RoamAD. 802.11 coverage areas are marked red.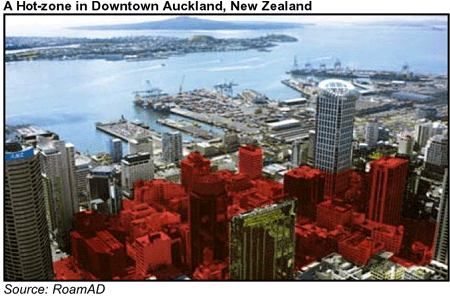 Two features important to making such hot-zones successful, says Craig Cameron, CEO of RoamAD, are "continuous indoor and outdoor WiFi coverage" that is "as good as GSM" within the hot-zone, and the ability to provide wireless VOIP with full roaming, low latency, and fast handoffs. This sure sounds great, but, naturally, it's not really as simple as that in practice.

The challenge to metro 802.11 is that IEEE-standard 802.11 technology is designed and intended for local-area networks, which raises concerns about how far it can be extended into the more-demanding metro environment, where it will compete against purpose-built WiMax and cellular systems. And from some angles, the whole concept looks pretty shaky, so why persevere?

For the majority of vendors and service providers that have embarked on metro 802.11 projects, it's the attraction of low-cost equipment and unlicensed 2.4GHz and 5GHz spectrum that motivates efforts to turn wireless LAN into wireless MAN. There are two basic network architectures for metro-zone 802.11:


Outdoor products that operate with wired backhaul in traditional point-to-multipoint mode and use high-gain, directional antennae to increase coverage. Vendors taking this approach include Cisco Systems Inc. (Nasdaq: CSCO), 5G Wireless Communications Inc. (OTC: FGWC), Proxim Corp. (Nasdaq: PROX), Radionet Oy, Vivato Inc., and several others.


Mesh-based systems that use wireless mesh backhaul to extend coverage through the metro zone. Vendors here include BelAir Networks, Firetide Inc., Nortel Networks Ltd. (NYSE/Toronto: NT), Tropos Networks, and Strix Systems Inc.


There are advantages to both architectures, of course, (although wireless mesh sounds a lot more exciting), but the real good news is that regardless of the type of system deployed, the case for metro 802.11 is strengthened by parallel industry developments, including:



Taken individually, these are powerful trends; but combined with extended-coverage, metro-zone 802.11, they might just take the market to the point where public-access WiFi pays for itself, rather than having the coffee (or tea) pick up the check.

— Gabriel Brown, Chief Analyst, Unstrung Insider

The report, Metro-Zone 802.11 Wireless, is available as part of an annual subscription (12 monthly issues) to Unstrung Insider, priced at $1,350. Individual reports are available for $900. To subscribe, please visit: www.unstrung.com/insider.