Financial reports filed today by KT Corp. with the U.S. Securities and Exchange Commission (SEC) indicate why the success of Korea's largest carrier has become central to the plans and hopes of worldwide telecom suppliers and investors.

Here is a carrier reporting nearly $7 billion in operating revenues and approximately $1.4 billion in operating income for the six-month period ended June 30, 2003. While these figures are roughly flat compared with the same period in 2002, they include 17.4 percent growth in broadband Internet access and 39.7 percent growth in Internet-related services, the carrier says.

Indeed, Korea's been cited as the world's fastest-growing access market. Add to that: sizeable revenues from an array of wireless services; ties to China and other growing markets; and roughly $989 million in cash -- and you've got some of the reasons why KT has become so attractive to vendors like Lucent Technologies Inc. (NYSE: LU), Nortel Networks Corp. (NYSE/Toronto: NT), and Riverstone Networks Inc., to name just a few (see Nortel's Korean Deployment: How Big?, Lucent Powers KT Network , and KT Picks Riverstone).

KT, privatized in 2002, has also been attractive to investors and is increasing its percentage of foreign investment. A report today from online wire service Asia Pulse says the South Korean government plans to lift a ban that keeps foreign investors from owning more than 15 percent of any telecom operator. While KT will still have no more than 49 percent foreign investment, offering a larger wedge of a pie that's fairly sizeable should be a nifty incentive.

There are some peculiarities about KT's market. Unlike China, where the sheer number of subscribers gets access vendors drooling, Korea's already got an installed base of savvy Internet users. KT's goal seems to be not just linking folk to the Internet, but keeping them engaged with options like gaming and video. KT is attempting to meet the demand in part through a longstanding alliance with Microsoft Corp. (Nasdaq: MSFT), which has resulted in video-on-demand (VOD) services.

The difference between the markets in China and Korea was highlighted in an IDC Website quote attributed to analyst Renee Gamble, regarding metro Ethernet services: "Although China will dominate the subscriber market, Korea is where revenues will be strongest."

KT's market for wireline services overall -- including voice, data, Internet, and leased lines -- was slightly better for the quarter, and it seems to be overtaking the carrier's other big money-maker, PCS services. Where wireline service revenues rose a bit, from about $4.8 billion to $4.9 billion for the first six months of 2003, PCS revenues dropped a wee bit, from about $2.1 billion to $2.0 billion. Overall, revenues were up 0.3 percent from the first six months of 2002 to the corresponding period in 2003.


Not everything is rosy at KT. While the company does not provide guidance in its SEC filings, it's clear the carrier has substantially cut spending across the board. Capex was slashed by $100 million, from about $1 billion to about $900 million, for the first six months of 2003 compared with the same period last year.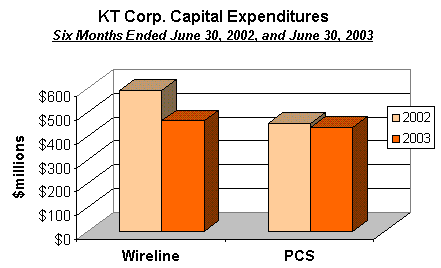 There are also still questions afoot about whether prospects in the Asia/Pacific region will be brighter than those elsewhere (see Will the Asian Migration Be Profitable?). And the recent declaration of a worldwide telecom upturn (see Lehman: Telecom Downturn Is Over) may tempt some to don the rose-colored shades -- a mistaken move, according to analysts from Morgan Stanley.

In an online presentation in August, Morgan Stanley analyst Stephen Roach warned that, even though economic signs are good in Asia, his firm isn't sure demand for products and services will go up that much. He said the firm's Asian equity strategist, Norman Villamin, "expresses concern that there is little domestic demand support behind recent increases in the leading indicators in Taiwan and Korea; he also raises a note of caution on Chinese domestic demand..."

— Mary Jander, Senior Editor, Light Reading