Juniper Networks Inc. (Nasdaq: JNPR) chairman and CEO Scott Kriens is having a good year. His salary will rise by 54.5 percent, with a potential bonus of up to 100 percent.

Kriens' salary will climb to $425,000 in 2004, according to a document filed yesterday with the Securities and Exchange Commission (SEC).

In the proxy statement released in advance of this Friday's annual shareholders' meeting, the vendor's compensation committee notes that Kriens, along with other Juniper executives, did not receive an increase in base salary in 2003, and that his salary was "substantially below comparative data." In fact, Kriens's base salary has been static at $275,000 for the past three years.

The CEO's new salary comes with a potential bonus of up to 100 percent, the same as last year. Kriens's bonus in 2003 was $161,350, or 58.7 percent of his base salary. He received no cash bonus in 2002.

In addition to his bonus, Kriens also received an option for 800,000 shares exercisable at $15 in 2003, an option that will be repeated in 2004. Those shares are vested over a four-year period.

The only other Juniper exec to get a pay raise in 2004 will be CFO Marcel Gani, currently at $200,000 a year, though the document did not state what his new salary would be. Gani received a cash bonus in 2003 of $117,345, and an option for 500,000 shares.

Pradeep Sindhu, vice-chairman and CTO, is set for his fourth year on a base salary of $185,000. In 2003 he received a cash bonus of $70,554, along with options for 300,000 shares.

The salary boost for Kriens follows a steady rise in Juniper's share price in the past year, from a 12-month low of $9.05 to a high of $31.25 (see chart below). The current price is $27.55, which values the company at $10.9 billion.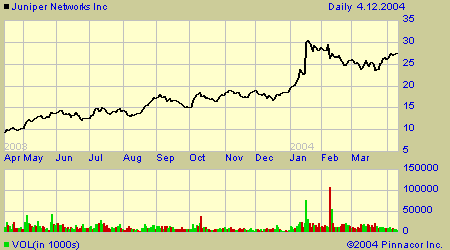 That raise reflects an upswing in revenues and, in recent months, a return of optimism in the telecom sector. Juniper showed it is among those capitalizing on increased carrier spending with its fourth-quarter results, announced in January this year, when it beat revenue expectations by $25 million (see Juniper Confidently Carries Q4). Its total revenues for that quarter were $207 million, up by a third compared with the previous year. It also recorded a net profit of $14.7 million.

Juniper was also ranked as a telecom sector recovery leader, along with its chief rival Cisco Systems Inc. (Nasdaq: CSCO), in a recent Light Reading Insider report (see Who's Winning in the Rebound? ).

Despite the recent encouraging news, Juniper's management is still cautious, stating in January that revenues for the first three months of 2004 are likely to be only slightly up, quarter-on-quarter, at between $210 million and $215 million. The company is also continually seeking ways to keep costs in check (see Juniper Goes Indian).

Juniper is set to announce its first-quarter 2004 results on April 21.

And Kriens has his work cut out this year to assure shareholders and the market that the company's recent $4 billion acquisition of security firm NetScreen Technologies Inc. (Nasdaq: NSCN) is not a flight of fancy, especially as the telecom sector is not known for successful mergers (see Juniper Buys NetScreen). In addition, there are suggestions that Juniper may make further acquisitions to expand its market base (see Would Juniper Go to Extremes?).

And the NetScreen acquisition has had an impact on the shape of the Juniper board of directors. The company notes in its SEC filing that Vinod Khosla is to step down, effective April 15, "in connection with our pending acquisition of NetScreen Technologies, Inc. and our related obligation to appoint a designee of NetScreen to our board."

Khosla, a general partner at venture capital firm Kleiner Perkins Caufield & Byers, one of the earliest investors in Juniper, has been on the board since the company's inception in 1996. Another partner from Kleiner Perkins, William R. Hearst III, remains on the board.

— Ray Le Maistre, International Editor, Boardwatch