Juniper Buys NetScreen
IP routing powerhouse
Juniper Networks Inc.
(Nasdaq: JNPR) announced this morning that it has entered into an agreement to buy network security vendor
NetScreen Technologies Inc.
(Nasdaq: NSCN) for about $4 billion in stock (see
Juniper to Acquire NetScreen
).
That's right, $4
billion!
Juniper and NetScreen executives said the motivation behind the deal is to put two best-of-breed technology companies together to create a stronger portfolio of networking products.
"It's time to lead, and there's no better lead than to match strength with strength," says Juniper CEO Scott Kriens. "NetScreen is one of the few technology companies to grow its business every quarter for the last few years through the downturn."
Juniper will exchange 1.4 shares of stock for every share of NetScreen. In morning trading, Juniper's stock was taking quite a shellacking, trading down $3.389 (11.50%) to $26.081, knocking down the price of the deal by a cool $400 million, to $3.6 billion. In contrast, NetScreen's stock shot up $9.36 (35.45%) to $37.25.
The deal is somewhat surprising, in that Juniper has its strength in equipment for service-provider networks, while NetScreen markets security and firewalls largely to the enterprise business market. This will put Juniper in more direct competition with
Cisco Systems Inc.
(Nasdaq: CSCO), which dominates the enterprise market. "It will stoke the Cisco fire, definitely," says Gabriel Lowy, an analyst with Blaylock & Partners.
Without a doubt, it's a big-ticket purchase, and one fraught with risk.
According to last Friday's stock prices, Juniper paid about a 40 percent market premium for NetScreen. As a stock transaction, it's all relative in a rising market, but Juniper shareholders will likely demand quick results in exchange for their dilutions.
The herd of analysts on the conference call appeared to applaud the deal, peppering the executives of both company with "great deal" and congratulations. But others, speaking after the conference call, were not so effusive.
"I find it incredulous that nobody on the conference call asked how they arrived at the valuation," says Lowy. "It looks like they're paying about eight times sales and 55 times earnings -- for what kind of growth rate?"
Juniper executives say the deal is "accretive," meaning it will add to the company's profits after the merger is complete. NetScreen's revenues for the fourth quarter ended December 31 were $81 million, an increase of 59 percent from the comparable prior-year quarter and a sequential increase of 13 percent over the previous quarter. Net income during the December quarter totaled $6.4 million, or $0.07 per basic and diluted share.
Security products have been one of the few networking markets with undisputed strength in the past few years (see
Shocking Results in LR's SSL VPN Test
), and merger & acquisition activity has been heating up in the market.
The biggest question of all is: Is this market worth the price paid for NetScreen? Some recent data indicates that the security market growth is slowing, in which case Juniper's timing may be late (see
Security Sales Stall
).
Infonetics Research Inc.
last year issued a report that saw growth in the market slowing. While the VPN/firewall market showed some growth in the second quarter of 2003, it was moderate. The sector only grew 1 percent to $705 million. Infonetics projected in September of last year that the market's revenues would increase to $831 million by the second quarter of 2004. In 2002, the market generated $2.7 billion in revenue. By 2006, Infonetics estimated, the annual revenue for VPN and firewall products could hit $4.2 billion.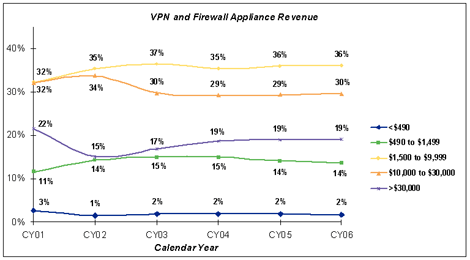 To complicate matters, the market is shifting, as demonstrated by NetScreen's entry into the SSL VPN market in the fall of 2003 via its purchase of Neoteris (see
Security Players Catch M&A Bug
).
Other large networking players, including Cisco and
Nortel Networks Corp.
(NYSE/Toronto: NT), have been working to beef up their security portfolios, specifically in the market for SSL VPN technology (see
Cisco Takes a Stab at SSL
,
Cisco Prepping SSL Story
,
Shocking Results in LR's SSL VPN Test
, and
SSL VPNs: Access Anywhere, Anytime
).
Another big question is how Cisco will respond to Juniper moving deeper into its own turf. Cisco has been integrating security and firewall features into its routers.
Kriens, perhaps anticipating that many will be critical of the move into more of an enterprise market, downplayed this element of the deal:
"As for the question of service provider vs. enterprise... it doesn't matter, because [the distinction] is going away," said Kriens on the conference call. "The question is not whether the network is service-provider or enterprise, but whether the network is mission-critical. Both companies serve the same goal: mission-critical networks."
Kriens said that in addition to large enterprise customers such as
Merrill Lynch & Co. Inc.
and McDonalds, NetScreen sells products to service providers including
SBC Communications Inc.
(NYSE: SBC),
Telecom Italia SpA
(NYSE: TI), and
China Unicom Ltd.
Kriens said he was confident that the integration of the two companies will go smoothly. The transaction is expected to close in the second quarter of this year.
"I can see the NetScreen building from the window of the conference room. If we can have success with an acquisition from across the country [Unisphere], I'm confident we can have success with a company across the street."
— R. Scott Raynovich, US Editor,
Light Reading
EDUCATIONAL RESOURCES



PARTNER PERSPECTIVES
- content from our sponsors