BOSTON -- JPMorgan Technology Conference -- Telecom titans were on hand this week to pitch investors at the 35th Annual JPMorgan Technology Conference. And while much of the event had the feel of a glorified earnings call, there were a few interesting tidbits from the three-day event. [Ed. note: Great quarter, guys!]

Nortel
The skeptics were all present and accounted for at Nortel Networks Ltd. 's presentation. Richard Lowe, president of Carrier Networks, discussed the company's big bet on WiMax and LTE (long-term evolution).

Nortel expects to rake in less than $100 million in revenues off of WiMax in 2007, however, and currently makes most of its wireless money off CDMA. Worldwide, WiMax will be a $1 billion market, and Nortel is betting big that it will grow to $7.5 billion in the next couple of years.

"A year ago we said that the four-year market horizon was around $7.5 billion -- the analysts said less," said Lowe. "But now they are saying $9 billion, and there is a lot more consensus."

WiMax, of course, continues to be a controversial topic. It seems that some companies -- including such huge wireless carriers as AT&T Inc. (NYSE: T) -- are viewing it cautiously. Others, such as Sprint Wireless (NYSE: PCS) and Intel Corp. (Nasdaq: INTC), are placing huge bets. (See Generic Tradeshow Blog™).

Nortel appers to be in the betting-the-ranch camp, at the expense of its short-term UMTS business, which it recently sold off. (See CTIA 2007 Highlights and ALU Completes UMTS Buy.)

Some industry analysts are not sold on Nortel and its WiMax plans. "They're not helping themselves going forward with their relentless marketing around the greatness of multiple-input/multiple-output (MIMO) antenna systems and the weakness of adaptive antenna systems (AAS)," says Heavy Reading senior analyst Patrick Donegan in an email.

"Nortel continues to champion MIMO and denigrate AAS," notes Donegan. "When you've only just exited a wireless market you once promised to be great in, I can't see how it helps to trumpet a message into the WiMax market that you are right and everybody else is wrong."

At the Light Reading seminar at JPMorgan -- Telecom 2.0: The Collision of Content & Communications -- Donegan gave a forecast of mobile data and multimedia traffic exchanged on wireless networks, including public hotspot usage but excluding usage in the home and enterprise. In it, he shocked some people by saying that WiMax would account for less than 10 percent of the data exchanged on wireless networks by 2012 (see chart below).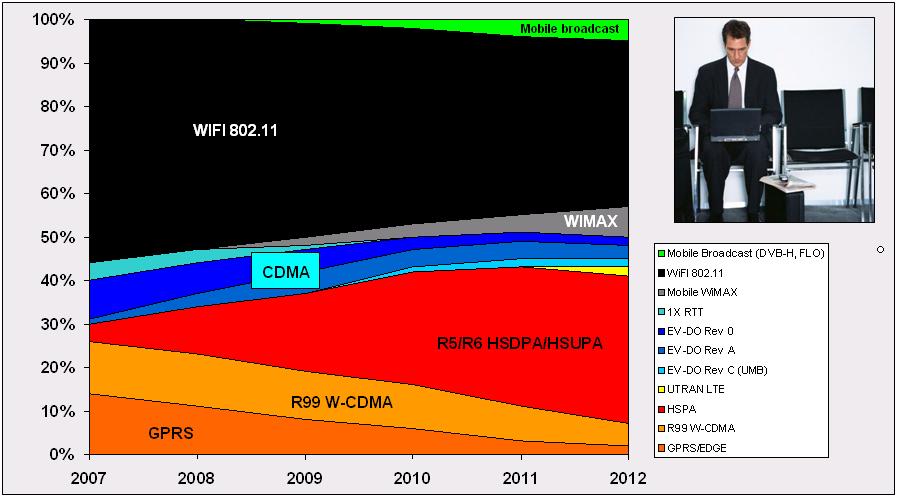 On the LTE side of things, one investor brought up a concern that converting to LTE is a lot easier when doing it from UMTS. Lowe would only acknowledge that "yes, it is easier to go from UMTS to LTE, but at the end of the day everyone has to upgrade, and it'll be a challenge for us."

Adtran
Adtran Inc. (Nasdaq: ADTN) came out and boasted numbers like a 90 percent market share in its traditional portion of its access business. The problem is that this business is HDSL and it was down about 6 percent last year. HDSL makes up about 35 to 40 percent of Adtran's revenues, and it is not a growth sector anymore.

While investors brought up concerns about Adtran's biggest money maker being a flat industry, CFO Jim Matthews remarked, "We see HDSL as a fairly stable business at this point. Is there a trajectory in either direction? You have two transitory things that'll affect it -- a move towards fiber base and Ethernet."

For now, Adtran is confident in its future for both of these key businesses. It recently gained Verizon Enterprise Solutions 's managed services business and is waiting on a key RFP from AT&T.

To Page 2