Instant messaging could turn out to be the next big thing in wireless technology – a market worth billions of dollars annually. It will also be quite a battlefield in the short term, because with 30-plus players already targeting this market, a shakeout is inevitable.

So says the report "Instant Revenue: Deploying Instant Messaging and Presence Platforms," the latest from Unstrung's subscription research service, Wireless Oracle.

It must be said that the term "instant messaging and presence" (IMP) doesn't really do justice to either the scope or the potential of this technology, which could repeat (and eclipse) the wild success of SMS. IMP is effectively SMS on steroids; it makes text messaging interactive, which could be a really BIG deal...

Right now, nobody really knows how big the market might be. Service revenues could be worth anywhere from $2 billion to $14 billion by 2005, according to a survey of industry insiders included in the Wireless Oracle report.

The report analyzes the technology and the vendors vying to provide carriers with platforms for rolling out IMP services, and it concludes that there's going to be big shakeout in the next few years. This is partly because of the large number of vendors targeting the market, and partly because a lot of them haven't really figured out how to market their products.

Wireless Oracle suggests that the OEM route will prove more fruitful for the specialist IMP vendors than trying to sell direct to mobile operators. In this analysis, major wireless infrastructure vendors such as LM Ericsson (Nasdaq: ERICY), Motorola Inc. (NYSE: MOT), Nokia Corp. (NYSE: NOK), and Siemens AG (NYSE: SI; Frankfurt: SIE) will act as integrators and provide essential order fulfillment and support services.

This view was confirmed at the 3GSM Conference in Cannes this week, where the 40-person startup OZ Communications Inc. announced a deal with Nokia to integrate its instant messaging and group server with the Nokia Presence Solution (see OZ Wins Nokia Distribution). Another example of this trend is Ecrio Inc.'s recent deal to OEM its presence server to Siemens.

The majority of IMP platform vendors, however, continue to believe most of their revenues will come from direct sales to wireless carriers.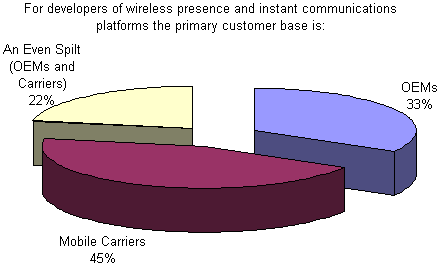 Wireless Oracle believes there is an element of wishful thinking to this business model. Instead, most of the 30-plus wireless IMP vendors will be forced to exit the business or refocus on core competencies, in a process that will drive a kind of micro-segmentation of the market. Ultimately, fewer than 10 vendors will survive. Those that do succeed will need to offer technology that offers an upgrade path beyond simple instant messaging to enable a host of other presence-enabled services, such as instant conference calling (a.k.a. push-to-talk), alerts, group collaboration, "optimized" messaging, and Web services integration. The report is available now on an individual basis for $400. An annual subscription to Wireless Oracle is ordinarily $1,250, but is currently available at the special introductory price of $899. For more, including subscription information and research examples, visit www.wireless-oracle.com. — Gabriel Brown, Research Analyst, Unstrung

Editor's note: Neither Light Reading nor Unstrung is affiliated with Oracle Corporation.