Despite the flurry of controversy surrounding it, users don't have a lot of complaints with their iPhone 4 -- at least not about Apple Inc. (Nasdaq: AAPL).

More than 90 percent of iPhone 4 owners say they're at least somewhat satisfied with the device, according to ChangeWave's latest consumer survey. One in five did run into some issues with the antenna, but 75 percent were satisfied with the bumper fix. (See Apple's Answer to 'Antennagate'.)

While these results aren't as overwhelmingly positive as ChangeWave's iPhone 3G S survey from last year, Paul Carton, vice president of research, says they are pretty solid considering the bad press the phone has received. (See Apple Explains iPhone 4 Troubles, Apple's Antenna Issues: Them's the Breaks, and Consumer Reports 'Can't Recommend' iPhone 4.)

For Apple's carrier partner, however, the bad press just keeps on coming. AT&T Inc. (NYSE: T) stole the top slots for things consumers dislike about their iPhone 4: 27 percent don't like the requirement to use AT&T's network and 24 percent disliked the coverage, speed, and quality of AT&T's 3G network. Antenna issues were neck and neck with excessive dropped calls as complaints amongst 24 and 23 percent of iPhone 4 users, respectively.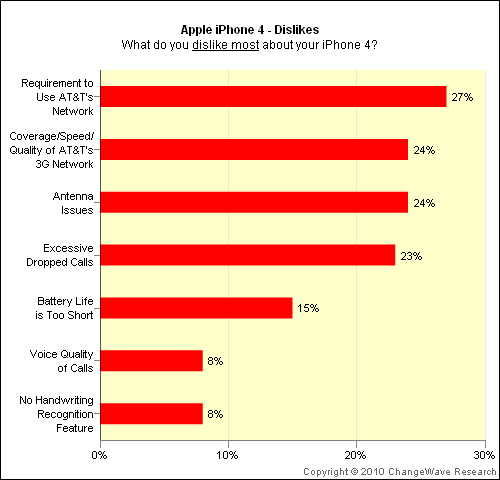 In ChangeWave's dropped call survey, released last month, Verizon Wireless had the industry's best dropped call rating and AT&T had the worst, a finding AT&T fought back against. But, Carton says that over ChangeWave's last eight wireless provider surveys since September 2008, AT&T has continued to worsen while Verizon has improved slightly.

Surprisingly, iPhone 4 owners reported a better dropped call rating at 5.2 percent than 3GS owners at 6.3 percent.

"Despite a bumpy release, the iPhone 4 is outperforming almost any other smartphone in the industry and meeting its expectations... I would have thought the satisfaction rating would be even lower, but the iPhone brand has been out for a long time and I think it shows it's resilient and can take the hits," Carton said on a media call today. (See Apple Sells Over 3M iPads, Nets 78% Profit Jump.)

ChangeWave's survey results for the iPhone's Android competitors, High Tech Computer Corp. (HTC) (Taiwan: 2498) Incredible and HTC Evo, will be released next week.

— Sarah Reedy, Senior Reporter, Light Reading Mobile