Where Are Comcast's IPv6 Volunteers?
5:00 PM --
Comcast Corp.
(Nasdaq: CMCSA, CMCSK)
offered an update
on its IPv6 trial activities, noting today that more than 5,000 customers have volunteered to join the test pool.
According to an MSO map, the volunteers are fairly spread out across Comcast's properties.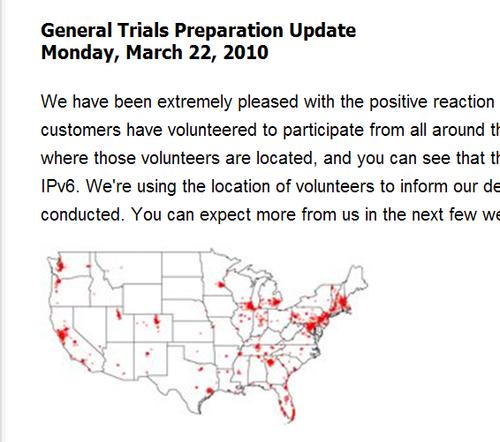 Comcast, already far along with its IPv6 plans, is on the verge of launching four "real, production-network" trials this year.
The first of the group will evaluate "tunneling" IPv6 over IPv4, followed by a test of "native Dual-Stack" IPv6 environments, whereby the operator will test issuing both v4 and v6 addresses to modems and other IP-based customer premises devices. (See
Comcast, ISC Go Open-Source With IPv6
,
Comcast Gets Its IPv6 On
, and
Comcast Braces for IPv6
.)
— Jeff Baumgartner, Site Editor,
Light Reading Cable