Resilient Packet Ring Technology (RPR) is emerging as a key technology for helping carriers generate next-generation services. And research from Heavy Reading, Light Reading's market research division, indicates two particular vendors -- Cisco Systems Inc. (Nasdaq: CSCO) and Nortel Networks Corp. (NYSE/Toronto: NT) -- stand to gain the most from this development.

In the Heavy Reading 2003 Telecom Equipment Market Perception Study, 94 percent of carrier respondents ranked Cisco the most recognized vendor of metro Ethernet equipment incorporating packet ring technology. Following closely was Nortel, which 83 percent of respondents recognized as a packet ringleader.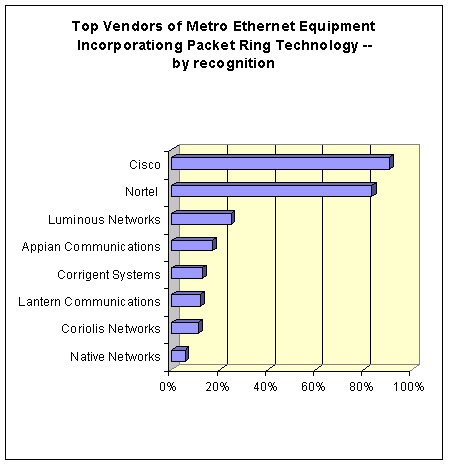 The issue of visibility is getting more important. In a new Heavy Reading report, "The Future of Sonet/SDH," released today, chief analyst Scott Clavenna says RPR will be critical for carriers looking at deploying IP-based metro services, such as Ethernet, over their Sonet/SDH networks. When coupled with Multiprotocol Label Switching (MPLS), RPR can also support efficient transport of Frame Relay and ATM, making it attractive to incumbent operators.

It's ironic that Cisco has emerged at the top of the list of packet ring vendors recognized by carriers. It was an early developer of proprietary packet ring technology (called SRP, for space reservation protocol), and at one stage it tried to get this adopted as the RPR standard. This resulted in squabbles with Nortel that disrupted efforts to get an interoperable set of specs going (see Cisco Acquisition Causes RPR Stink , RPR in the Spotlight, Cisco Rounds Up More RPR Support, RPR Divided, and RPR: RIP?).

In the end, Cisco and Nortel have emerged as front-runners, although right now, all vendors are shipping pre-standard technology (some more pre-standard than others). The RPR standard isn't expected to get official approval until the middle of next year.

Oddly, some of the startups that were most aggressive in promoting RPR are suffering from a lack of visibility, just as the technology is becoming more important. While 24.4 percent of carriers responding to Heavy Reading's questions about RPR equipment recognized Luminous Networks Inc. as a supplier, and 17 percent recognized Appian Communications Inc., other startups didn't fare as well: Just 12.6 percent of respondents recognized Corrigent Systems Inc.; 11.9 percent recognized Lantern Communications Inc.; and 11.1 percent recognized Coriolis Networks Inc.

Native Networks Ltd. was recognized by just 5.2 percent of respondents, despite new funding and partnerships with Alcatel SA (NYSE: ALA; Paris: CGEP:PA) and other unspecified Sonet/SDH vendors (see Native, Xelerated Secure Funding).

Having recognition doesn't mean there isn't work to be done: All of the vendors noted by survey respondents, regardless of how recognizable they were as packet ring market players, dropped in ratings of price, performance, quality and reliability, and service and support. Clearly, when it comes to these featurs of packet-ring products, carriers aren't impressed.

Cisco and Nortel, for instance, were perceived as leaders in packet-ring pricing by 40.6 percent and 33.3 percent of respondents, respectively. Luminous was noted for price leadership by 17 percent. The other vendors scored less than 6 percent. Results were similar for performance and quality/reliability.

When it came to service and support, Cisco and Nortel tied with 45.8 percent of respondents noting their leadership; all other vendors had less than 3 percent of respondents note their leadership in this area.

What's happening here? The early RPR startups loudly trumpeted their wares as Sonet/SDH alternatives; that stance, along with the standards kerfuffle and some misunderstandings of the technology, may have hindered them early on. But as RPR has gained legitimacy with carriers and taken on a new persona (see RPR's New Guise: The Packet ADM), so have many of the startups. The trouble is, their customers as a group seem to be very slow catching on.

Appian, for instance, has a solid "in" with Japan's NTT Communications Corp. and an OEM arrangement with ADC Telecommunications Inc. (Nasdaq: ADCT) for the cable/MSO market. But its market perception ranked poorly in Heavy Reading's Sonet/SDH report.

Packet ring startups as a group may also be suffering from ongoing gaps. Clavenna's report names several that began as RPR one-trick ponies and need to work on balancing features in several areas now that the market's fleshing out.

One thing: Whether or not startups get their messages out, it looks as if RPR is here to stay. According to Clavenna, without it, the chances of creating profitable Ethernet-over-Sonet networks fades fast.

— Mary Jander, Senior Editor, Light Reading


---
To examine an executive summary of the Heavy Reading Report – "The Future of Sonet/SDH" – click here. The full report is available for $3,950.