The leading incumbent equipment players are remarkably aligned in where telecommunications networks are going, but not all of them may be able to get there, according to a comprehensive new report from Heavy Reading, the market research division of Light Reading.

The 114-page report, "Setting a Course to Convergence: The Incumbents' Wireline Strategies," was culled from interviews with more than 50 service providers and the CTOs and technology visionaries of the six major incumbent suppliers. It finds that both incumbents and service providers agree that the telecom services network is moving toward a converged IP/MPLS network architecture and new packet-based services.

The report slices and dices the market positioning of six major equipment incumbents – Alcatel SA (NYSE: ALA; Paris: CGEP:PA), Cisco Systems Inc. (Nasdaq: CSCO), Lucent Technologies Inc. (NYSE: LU), Marconi Corp. plc (OTC: MONIY), Nortel Networks Corp. (NYSE/Toronto: NT), Siemens AG (NYSE: SI; Frankfurt: SIE) – based on interviews with the companies as well as other publicly available information.

"What we're really looking at is not a general increase in spending, but a reallocation of capital dollars that used to be going to more traditional telco equipment, like TDM and circuit equipment, to packet equipment," says Mike Volpi, senior VP and general manager of Cisco's Routing Technology Group, in the report.

There's only one catch: Some incumbent equipment suppliers are better prepared to fulfill this vision than others. Some may fail miserably, according to the report, in part because they lack the financial resources and/or key strategic products to make the transition.

Heavy Reading analysts scrutinized each equipment suppliers' positioning and built a common architecture model, entitled the Converged Network Infrastructure (CNI). For example, shown below is Cisco's product representation in the CNI model, which puts optical transport at the core, wrapped in turn by switching and then layers of edge services, applications, and access technologies.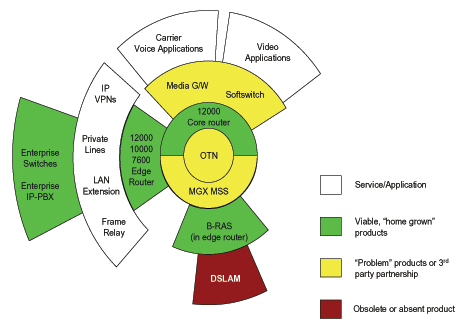 So how will the convergence pan out? Slowly. Many incumbent carriers are wary about the shift of profitable legacy services such as voice circuits and leased lines onto a converged IP/MPLS network, the report concludes. Most of them will run these services directly over their optical transport networks for the time being.

Service providers interviewed for the report say there is no easy way to migrate their exceedingly complex networks to a lower-cost, converged packet-switched core. In fact, they may take divergent approaches to preserve investments in legacy "stovepipe" networks. The challenge is migrating to IP technology without killing the legacy business models.

"In converged network architecture, there'll clearly be a merging of organizations – the transmission guys with the router guys," says the VP of operations at one North American service provider interviewed for the report. "Which of the organizations do you choose as the lead? Transmission makes money; routers don't – at least today. And every premium revenue service we can deploy over a router is probably cannibalizing business from our private lines and Frame Relay."

That's where equipment supplier market positioning becomes key. For example, Nortel is in a good position to benefit from the carrier's dependence on optical transport because it has a strong set of optical transport products, according to Heavy Reading. At the same time, Nortel is continuing the development of ATM products, which are likely to remain part of the mix for some time, while talking about continuing developments in MPLS.

Nortel's strategy of talking the talk on MPLS while walking the walk on ATM contrasts sharply with that of Lucent, which may have entirely lost the plot, says the report. Heavy Reading concludes that Lucent's decision to halt ATM developments after acquiring Ascend for $20 billion "beggars belief." Lucent's strategy on the IP routing front is now largely dependent on its newly formed OEM relationship with Juniper, notes the report.

"Setting a Course to Convergence: The Incumbents' Wireline Strategies," gives many other examples of how shrewd product positioning can benefit the overall marketing strategy. For example, the gains made recently by Siemens in the softswitch market, with high carrier penetration of its HiQ9200 product, have helped it form its Next-Generation Networks (NGN) strategy of helping carriers sweat assets via packetizing voice, says Heavy Reading. The question is whether it can successfully migrate the installed base to its next-generation softswitch product, the HiQ8000.

Of course, such independent analysis is subject to debate and likely to ruffle some feathers. Equipment suppliers may soon fire back with new marketing messages and/or strategies for convergence.

— R. Scott Raynovich, US Editor, Light Reading

"Setting a Course to Convergence: The Incumbents' Wireline Strategies" is published in PDF format and is available now for $3,800. To read the executive summary and purchase the report, click here.