The market for metro Ethernet equipment will quadruple over the next five years, according to a report released today by IDC.

The growth spurt's already begun: In 2002, despite the worldwide telecom spending crunch, sales of metro Ethernet rose by over 70 percent, to $837 million. The main driver was the growing popularity of Ethernet services, particularly in the Asia/Pacific region, where lots of new infrastructure's being installed as a result of demand for consumer and business access services.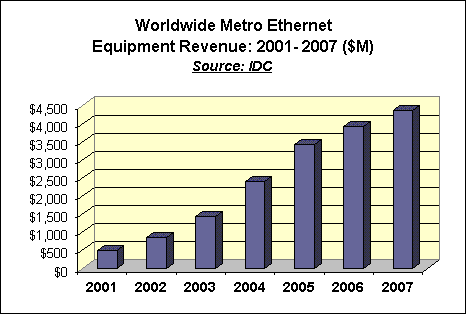 It's a trend that's likely to continue, according to IDC senior research analyst Sterling Perrin, who co-authored the report. Last year, 51 percent of metro Ethernet equipment sales took place in the Asia/Pacific region; by 2007, IDC forecasts, the region will account for 61 percent of sales.

By comparison, Europe, where 27.8 percent of worldwide sales took place in 2002, will account for 24 percent of sales in 2007. North America, which claimed 18.3 percent of overall revenues in 2002, will claim just 12 percent in five years.

"The U.S. is falling behind on the data side," Perrin notes. Not only is there less consumer demand for Ethernet services stateside, but demand for Ethernet replacement of business private lines isn't up to Asia/Pacific levels.

When it comes to products, the rising tide isn't lifting all boats. Layer 2/3 switches and routers are most popular now and will continue to be, Perrin says. By 2007, he predicts, over 80 percent of all metro Ethernet gear sold will fall into these two categories.


IDC sees less promise for metro Ethernet in what it calls multiservice provisioning platforms (see Next-Gen Sonet Growing) and straight-ahead metro DWDM gear.

IDC indicates that competition will be strong, giving an advantage to vendors like Cisco Systems Inc. (Nasdaq: CSCO) and Nortel Networks Corp. (NYSE/Toronto: NT), which already have offerings in more than one of the four product categories outlined above. Other vendors, such as Alcatel SA (NYSE: ALA; Paris: CGEP:PA), which hasn't been as aggressive in rolling out Ethernet solutions, may have a row to hoe to keep up.

— Mary Jander, Senior Editor, Light Reading