iBasis Lands on Financial Cushion
VOIP carrier
iBasis Inc.
(OTC: IBAS) has made the most of the IP telephony boom by raising $31.5 million with a private placement of 15 million shares to unidentified shareholders at $2.10 per share (see
iBasis Raises $31.5M in Equity
).
The carrier, one of the veterans of the wholesale VOIP market, is desperate to regain its listing on
Nasdaq
. The company had previously considered a reverse stock split (reducing the number of common shares outstanding) in an effort to boost its share price (see
iBasis Targets Nasdaq Return
).
But following a successful restructuring of its debt and its launch into the consumer VOIP market, the company opted instead to persevere with its current business plan and raise additional cash from the private placement in a bid to improve its financial strength (see
iBasis to Complete Refinancing
and
iBasis Launches Prepaid VOIP
).
The news sent the firm's share price up 8 cents to close at $2.20 yesterday, and it's still comfortably above the new issue price today at $2.18.
There are signs that iBasis is having some success as VOIP traffic volumes ramp up (see
Global VOIP Traffic Grew 80% in 02
). While major rival ITXC was being snapped up by
Teleglobe International Holdings Ltd.
(Nasdaq: TLGB), iBasis has achieved record quarterly revenue figures this year and struck some deals with emerging VOIP traffic generators
Skype Technologies SA
and
Golden Telecom Inc.
(Nasdaq: GLDN). (See
TeleGlobe Gobbles Up ITXC
,
Skype Names Carrier Partners
,
iBasis Reports Record Q2
,
iBasis Reports Record Revenue
, and
Russians Get Hooked on VOIP
.)
And while the carrier has still been losing money on a quarter-by-quarter basis, the company says it's on course to be profitable by the end of 2004, a view backed by
Needham & Co.
analyst Vik Grover. He believes iBasis has turned a corner and is heading for a profitable 2005 with revenues of more than $330 million.
Those indicators and the company's financial restructuring have contributed to a steadily rising share price during the past six months (see chart below).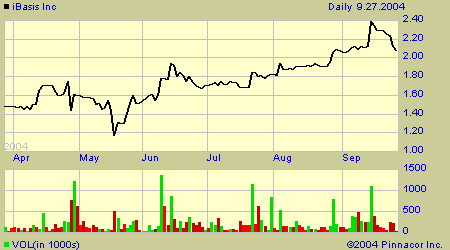 iBasis spokesman Chris Ward says the new cash injection will strengthen its balance sheet. "We've done a lot of work to reduce our debt from a high of about $200 million down to about $60 million and then restructure that debt," he says. The carrier now has the potential to convert that remaining debt of $62.5 million into equity, should it meet certain business milestones.
But how exactly will the new cash be used? The firm's press release says it'll be used for "working capital requirements and general corporate purposes" and it won't elaborate beyond that except to say there are "no specific plans" to buy any other players at present.
Ward also says iBasis doesn't need the money for any major capex plans. "We've been able to leverage our existing infrastructure to launch our retail VOIP services, so there hasn't been a need for any significant capital investment, which is a beautiful thing."
Needham's Grover, however, believes the cash will be used to fund the development of a voice-over-broadband solution that will help ISPs offer a VOIP service similar to that currently peddled by
Vonage Holdings Corp
.
In a recent research note, Grover writes that iBasis "is well positioned as a platform for consolidation of other VoIP companies and as an infrastructure provider of edge services such as voice over broadband products to other carriers, ISPs, cable MSOs and resellers." He believes the carrier's network of IP collocation points in 12 countries, "combined with a global VoIP footprint and a low cost rate table, seems to position [iBasis] well as a category killer provider of next-gen solutions on a branded, private-label and wholesale basis."
In the meantime, the carrier's board needs to do something about its spokesman Chris Ward, whose ordinary, run-of-the-mill name stands out like a sore thumb in a company populated by some of the industry's finest nomenclatures, including Ofer Gneezy (president and CEO), Dan Powdermaker (senior VP, worldwide sales), and executive VP Gordon VanderBrug. As this article was published, we hadn't received a response to our suggestions that Ward change his name to Lord Ptang Ptang BiscuitBarrel in order to blend in more successfully.
— Ray Le Maistre, International News Editor,
Light Reading
EDUCATIONAL RESOURCES



PARTNER PERSPECTIVES
- content from our sponsors