Stepping up the pressure on Cisco Systems Inc. (Nasdaq: CSCO) in the VOIP equipment market, China's Huawei Technologies Co. Ltd. has announced a partnership with Microsoft Corp. (Nasdaq: MSFT), a move analysts say is bound to raise the hairs on Cisco's neck (see Huawei, Microsoft Partner ).

Cisco and Huawei have been at loggerheads since the incumbent provider slapped a lawsuit on Huawei, accusing the company of violating copyright laws and stealing intellectual property to use in its products and support materials (see Cisco/Huawei Brawl Begins).

Cisco recently halted the suit pending an independent review of Huawei products, after Huawei said it had changed its source code (see Huawei: Cisco Code Is Gone).

Now Huawei is back on the offensive, teaming up with Microsoft in China, where the two firms will sell an integrated package of next-generation network equipment from Huawei coupled with Microsoft's Exchange Server 2003. Dubbed U-SYS WorkSpace, the offering is aimed at carriers looking to offer IP Centrex and other hosted IP services like Microsoft Exchange.

Analysts say it's another shot over the bow from Huawei that Cisco doesn't need. "If they ever wanted to trump Cisco, getting into bed with Microsoft is one way to do it… It's a very deliberate strategy to buy legitimacy into the Western market," says Jon Arnold, program leader, VOIP equipment, Frost & Sullivan. In addition to the Microsoft deal, Huawei announced today that its commercial arrangement with 3Com Corp. (Nasdaq: COMS) is up and running (see 3Com Taps Huawei in Enterprise Battle).

According to the latest market stats, Huawei appears to be stealing some of Cisco's thunder. Dittberner Associates Inc. reports that Huawei has captured 13 percent of the global market for next-generation voice products, with over 4 million ports shipped to date.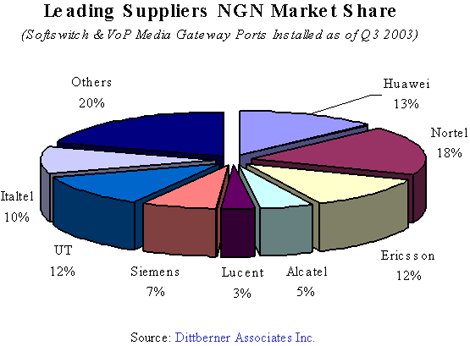 As of September, 2003, Huawei claims its U-SYS next-generation offering -- that includes a softswitch, media and signaling gateways, integrated access device (IAD), and service layer software -- has been commercially rolled out by over 20 carriers in more than ten countries including China, the U.K., and Brunei.

For Microsoft's part, it gets a strong partner in China, a market analysts say is impossible to penetrate without local partners. "This is a successful story of giant-to-giant cooperation in the telecom industry," said Guo Haiwei, VP of Huawei, in a prepared statement.

— Jo Maitland, Senior Editor, Boardwatch