CUPERTINO, Calif. -- HP Inc. (NYSE: HPQ) is making the OpenFlow protocol commercially available on 16 platforms, the company announced Thursday.

That means that with a free firmware upgrade, those 16 products, including the 3500, 5400 and 8200 lines of switches, are now capable of receiving commands from an OpenFlow controller. OpenFlow lets operators push switching decisions from outside the network, creating possibilities for building sub-networks that operate by customer-specific rules.

HP plans to extend OpenFlow support to all the products in its FlexNetwork architecture this year.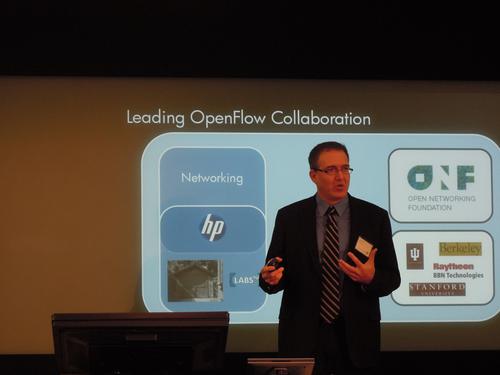 Why this matters
HP won't be alone in offering OpenFlow broadly, but it's the first major vendor to do so, which gives the OpenFlow camp something to celebrate. "This will be one of the milestones in OpenFlow moving from a research activity to more of a commercial-type deployment tool," said Saar Gillai, HP CTO, during a press event Thursday morning.

(IBM Corp. (NYSE: IBM), which we're pretty sure counts as a major vendor, launched OpenFlow commercially last year, but only on one product, the RackSwitch G8264 from Blade Network Technologies.)

For HP, OpenFlow is a chance to grab attention from competitors including a resurgent Cisco. All of those vendors, including Cisco Systems Inc. (Nasdaq: CSCO), have said they'll support OpenFlow, but HP has managed to step ahead of the pack, at least for the moment.

For more
The latest on OpenFlow, including the news release about IBM pairing its switch with the NEC Corp. (Tokyo: 6701) OpenFlow controller:

— Craig Matsumoto, West Coast Editor, Light Reading