How Q-ute! Juniper's QFabric Rethinks the Data Center

2/23/2011

Comment (18)

SAN FRANCISCO -- In a Wednesday press event, Juniper Networks Inc. (NYSE: JNPR) unveiled QFabric, its overarching technology for scaling the control, data and management planes of the data center.

Yes, after hearing about the Stratus data-center fabric for two years, it's finally here and has a name.

QFabric is rather esoteric, but Juniper is providing a box for the press to fawn over: the first new product instantiating QFabric. Juniper claims it is the fastest 10Gbit/s top-of-rack switch ever, the 64-port QFX3500.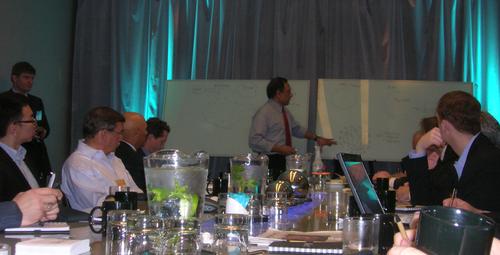 What's more important is the entire structure behind QFabric, which makes the data center behave as if it were one giant switch. QFabric comes in three pieces: node, interconnect and director.

The nodes, consisting of Ethernet switches and similar devices, house a distributed control plane that's overseen by the director, which is made of software running on an ordinary server. Multiple directors can be planted around the network, operating as a hive mind to oversee this distributed control plane.

The interconnect is Juniper's mechanism for sending packets between nodes at what the company claims is nearly the lowest latency possible. There's a bit of magic here: CTO Pradeep Sindhu likens it to the superposition principle in quantum mechanics, in which photons take every possible path, and we see the sum of those paths. He wouldn't elaborate much, but apparently, packets have every possible path through the network available to them.

QFabric also avoids congestion using a mechanism similar to backpressure in water pipes, Sindhu said. Again, he wouldn't give details.

Neither is Juniper saying how big of a virtual data center can be built with QFabric. Those details will come out in June or July, Sindhu said.

Why this matters
This is Stratus fabric that Juniper has been talking about for two years. It's the company's ambitious attempt to become a crucial cog in enterprise data centers and a major offensive against a major Cisco Systems Inc. (Nasdaq: CSCO) stronghold.

They're all pitching ways to create larger data centers that can accommodate the virtualization and heavily distributed applications that are coming in vogue. There's also a nod here to the big data centers built by the likes of Facebook and Google (Nasdaq: GOOG). The trick is to avoid building monstrous data centers that get bogged down in performance or overloading space and power limitations.

The answer being posed by Juniper -- and by Brocade Communications Systems Inc. (Nasdaq: BRCD), in an earlier announcement -- is to make the data center look like one giant switch, as far as the network is concerned. Part of the philosophy is to prevent having to add more layers of switches in order to make the network bigger.

Juniper's approach doesn't require that you use Juniper gear in the data center, although the company admits things will work better if you do.

Competition in this "fabric" concept is going to be intense, as vendors are, in a sense, selling the entire data center as a product, something much bigger and more complex than selling Ethernet switches.

For more
Here's the saga of Stratus (with a little bit of Brocade One and Cisco Universal Computing System added).
— Craig Matsumoto, West Coast Editor,
Light Reading

(18) |