Sales of SDH and DWDM gear will top $5 billion in China by 2004. But companies seeking a piece of the coveted Chinese market face formidable local competition. So says the latest report on the optical transport market in China, released this week by RHK Inc. (see Report: China Transport Thriving).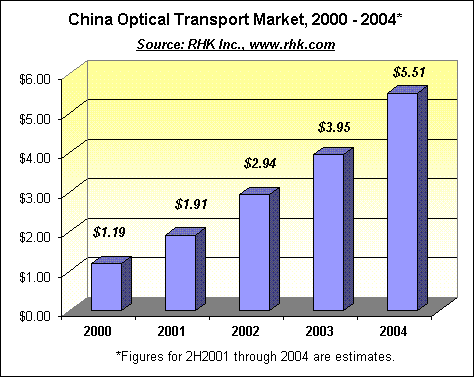 The market research firm says sales of optical gear in China are expected to show 60 percent growth for 2001, with nearly 54 percent growth anticipated for 2002. Most of the revenues, the firm says, are coming from SDH, which continues to rule the optical transport market in China, although wavelength-division multiplexing also is making significant inroads on metro and backbone networks.

These figures tally with RHK stats for the Asia-Pacific region overall. In an earlier report (see RHK Projects Asia Growth), RHK said that WDM is growing fastest in the region, including China, but is estimated to yield only $1.4 billion in revenue this year, compared to $4.3 billion for SDH gear.

Overall, the Chinese market accounts for roughly 31 percent of optical transport gear sold in the Asia-Pacific region, according to RHK. Drivers for the burgeoning market include deregulation and government-backed expansion of wireless and IP networks nationwide.

But outside companies looking to China to offset their market shortfalls elsewhere in the world had best beware. According to RHK, the leading local telecom equipment provider, Huawei Technologies Co. Ltd., continues to dominate the market.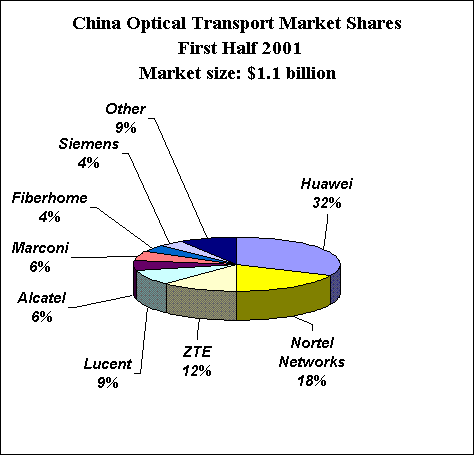 Indeed, one of the most interesting aspects of the report is its evidence that local companies seem to have a clear upper hand in China's telecom economy, where the government's nod strongly influences buying decisions at the local level. Despite this, China's leading optical company remains mysterious to many of its international counterparts.

Huawei was founded in 1988 by Ren Zhengfei, a 57-year-old who made the Forbes magazine list of China's richest people earlier this year, which put his personal fortune at US$500 million. Zhengfei is reported to have worked for the People's Liberation Army as a telecom procurer, and it is widely accepted that the company received much early support from the Chinese military.

Huawei claims that in 1999 it earned US$1.5 billion in revenues, followed by $2.6 billion in 2000. The firm claims roughly 18,000 employees worldwide, a majority of whom are shareholders in the company.

The fact that Huawei continues to be privately held is a source of frustration to investors worldwide. Earlier this year, Huawei was involved in talks and alliances that could have gotten it listed on Nasdaq, but the arrangements fell apart when rumors surfaced that the company had supplied Iraq with telecom equipment.

Huawei has racked up a number of contracts internationally as well as in China, where it claims to have garnered over 50 percent of the installation contracts for China Unicom's metro broadband buildout, underway now.

Another company surfacing in RHK's stats is Zhongxing Telecom Ltd., the number two SDH provider in China and third in the overall optical transport market, according to RHK.

Founded in 1993 and headquartered in Shezhen, ZTE is a public company traded on China's Shenzhen stock exchange. Claiming roughly 12,000 employees, the company reported revenues of US$900 million in 2000. In contrast with Huawei, ZTE's foremost claim to market success seems to be in wireless equipment. On August 10, ZTE announced the opening of the first part of a CDMA network for China Unicom. It claims to have won the lion's share of that carrier's $1.45 billion RFP this past April.

— Mary Jander, Senior Editor, Light Reading
http://www.lightreading.com