Heavy Reading Sees Money in SIP
Session Initiation Protocol (SIP), the popular signaling protocol used to establish calls and conferences over the Internet, can help service providers launch new services cheaply and effectively, even offering a speedy route to profitable operations, according to a new report from
Heavy Reading
(see
Heavy Reading Studies SIP ROI
).
The author of
SIP Hosted Services: A Heavy Reading Competitive Analysis
, Margaret Hopkins, reports operators can expect to cover their costs and start making money within three years from several SIP services, including: hosted contact centers, Centrex services, and multimedia conferencing.
The author's return on investment (ROI) model shows that hosted SIP contact centers offer the greatest potential for generating profits. "Our ROI model suggests that carriers can achieve positive cash flow within the first year of deploying SIP-based hosted contact centers," Hopkins writes.
That'll be encouraging news for the early adopters that have already committed to SIP (for recent examples, see
Charter Picks Nortel VOIP Gear
,
Level 3 Expands Cable VOIP
,
PointOne Picks Convedia Media Servers
,
Telco Global Picks Nortel
, and
Callipso Selects Sonus for VOIP
).
Despite its popularity, SIP still has about six years worth of standards development work to endure at the
Internet Engineering Task Force (IETF)
. The IETF's SIP Working Group, which focuses on core SIP functionality, has 24 drafts outstanding, while the Sipping Working Group that addresses SIP applications has 25 drafts outstanding.
Hopkins illustrates the protocol's immaturity when she compares 78 SIP platforms from 47 vendors and finds that few of the solutions on offer provide the scale and features carriers need to provide commercial services to large customer bases.
The protocol has other shortcomings, too. For instance, SIP lacks some of the functionality commonly used in circuit-switched voice networks, particularly the ability of SIP platforms to hook up with, and provide relevant information to, current billing systems.
Despite such issues, SIP has a lot going for it, particularly in cost comparison terms. Hopkins finds that "there is a very good business case for both the carrier and the user in adopting VOIP systems." Hopkins evaluated the savings an enterprise could enjoy by deploying an IP PBX (or iPBX) compared with a traditional PBX system, and the savings from using an IP Centrex service compared with a traditional Centrex service. The chart below shows the cost difference between an owned iPBX and a conventional PBX using the report's ROI model.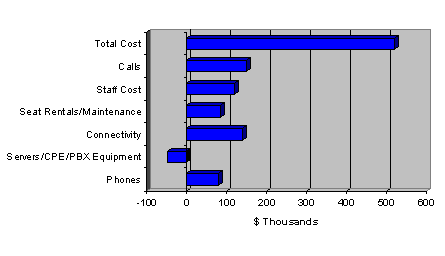 The costs to the right of the Y axis represent savings realized from deploying an iPBX instead of a conventional PBX, while costs to the left represent additional expenses for the iPBX compared with the conventional PBX.
The report also evaluates the business case for a service provider targeting large corporate customers with an IP Centrex service, and finds that a service provider with an assumed 25 percent market share and an existing IP network (with POPs in the areas where its customers are located) can reach breakeven in the third year of deployment.
Those attractions haven't escaped the attention of the industry's leading vendors, such as
Alcatel SA
(NYSE: ALA; Paris: CGEP:PA),
Cisco Systems Inc.
(Nasdaq: CSCO),
Lucent Technologies Inc.
(NYSE: LU), and
Nortel Networks Ltd.
(NYSE/Toronto: NT), all of which offer SIP solutions. However, these tend to be existing platforms with SIP added on, rather than original, native SIP products.
This gives focused startups the chance to make some headway and attract early carrier adopters. Hopkins finds that companies such as
Polypix Inc.
and
White Pajama
are winning important deals, and show that "vendors specializing in SIP can have success selling against incumbent telecom equipment vendors."
— Ray Le Maistre, International Editor,
Boardwatch
EDUCATIONAL RESOURCES



PARTNER PERSPECTIVES
- content from our sponsors