When it comes to IP telephony, Global Crossing Holdings Ltd. is its own best customer. The carrier has started migrating all of its 4,700 employees to IP-based voice services that run across its own IP backbone and expects to be PBX free by early next year.

Nifty marketing or common sense? For Global Crossing, which is trying to reassert itself as a technology pioneer as it prepares to exit bankruptcy, this seems like a logical move to leverage its own network infrastructure (see Global Crossing Falls Overboard and GlobalX: The Burst Bubble). Equally significant, industry observers say, is the impact the move could have on the credibility of the voice-over-IP (VOIP) technology itself.

"It's big news," says Frost & Sullivan analyst Elka Popova. "It's a large deployment… The main implication is that the number of companies using voice-over-IP is growing… Service providers are validating the technology by deploying it themselves."

Global Crossing's internal deployment of IP telephony could be a sign that long-held expectations that the technology will replace plain old telephone service (POTS) could be starting to materialize (see VOIP: Big Promise, Big Wait). Currently, only about 10 percent of all voice services are IP-based, according to a study by TeleGeography Inc. last year. The analysis firm says it expects that number to grow significantly going forward.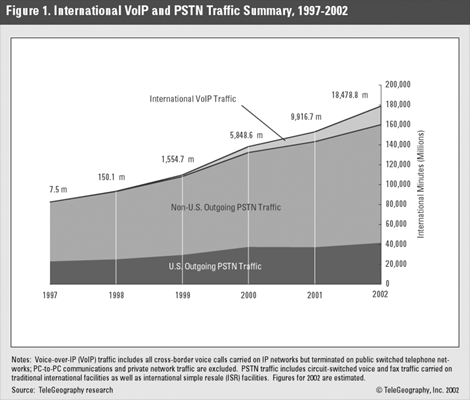 Global Crossing, which started evaluating a move to IP telephony before it filed for Chapter 11 in January 2002, has already deployed 750 Cisco Systems Inc. (Nasdaq: CSCO) IP phones and has completed the migrations of several of its facilities. Two Rochester, N.Y., sites; one Phoenix facility; and a network control center in Reston, Va.; and 50 small office and home office (SOHO) facilities have already been moved to VOIP.

The carrier says it expects to complete the migration of all of its facilities by the beginning of 2004. It already carries more than 1 billion VOIP minutes across its network every month, according to company officials.

The internal deployment of VOIP will allow Global Crossing to test and trial the service offering before it starts marketing it to enterprise customers later this year, the company says. "This is a quality control measure," says Patrick Reilly, a senior network engineer at Global Crossing. "We're testing it on ourself first… We're like a big beta customer."

"It makes sense that they'd want to eat their own dog food before they sell it," says TeleGeography research director Stephan Beckert. "It's not surprising. I know that other companies are thinking about doing the same thing."

Cisco, which provides the IP phone as well as some other VOIP gear, has also converted its entire corporate phone systems to VOIP, according to Cisco PR manager Rob Lopez. "We're now 100 percent IP," he says. "We're betting our business on it." Of course, Cisco has something at stake: It sells the technology.

Global Crossing insists that it has no qualms about taking the IP leap of faith. "We have a full mesh, very resilient backbone," Reilly says, pointing out that all IP voice traffic will travel exclusively on Global Crossing's own IP MPLS network and will therefore not be as exposed to the whims of the Web. "It's extremely redundant… We're very confident putting voice on that network."

Does the move signal a coming wave of IP telephony at other carriers? The economic incentives are there, say some analysts. "They save money as a customer, at the same time as they increase the utilization of their network," says Popova.

— Eugénie Larson, Reporter, Light Reading